November 21, 2017
On-The-Go Habits are Propelling Instant Beverages Pre-Mix Market of India
Product Overview:
Instant beverage premixes can be defined as beverage products which can be quickly and conveniently served. The various functions performed by instant beverage pre-mix are that it leads to improved body metabolic activity, while serving as a source of healthy hydration as well. The different types of products which come under instant beverage pre-mix are instant coffee, instant milk, instant tea, instant health drinks, instant soups, instant energy drinks and many more. Many variants are available under each category, for instance, instant tea covers green tea, masala tea, lemon tea, etc.
Some of the major drivers hitting the India Instant Beverage Pre-Mix Market are discussed below:
Increasing Youth Population, Rising Income Levels and Growing Urbanization in India:
Over the last few years, India has witnessed significant increase in the discretionary income of the population. Growth in per capita income induces growth in affluence and the spending capacity, thus providing a huge scope for growth in beverages premix market of the country. The middle-class population in the country is expected to grow to 20.3% by 2015-16, and further to 37.2% by 2025-26. Along with rising income, a large base of the population of the country is expected to get busier, and hence the time to get involved in household activities or to indulge in socializing will be less, which will further fuel the demand for instant beverage pre-mix in the country.

Source: IMF, World Bank
With the increasing internet penetration and improving income levels of population, India is witnessing an enormous growth in the retail sector. At the same time, the organized retailing is becoming a significant driver for the sales of instant beverage pre-mix in India due to convenience and reliability. 
To request the sample report, please visit: https://www.techsciresearch.com/report/india-instant-beverages-pre-mix-market/1285.html
Expanding retail network in India: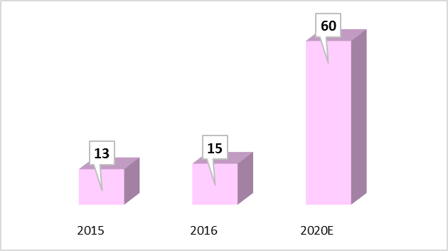 Source: TechSci Research
Increasing popularity of premixed alcoholic beverages:
Premixed alcoholic drinks refer to the careful blend of wine, beer, etc. with flavors. The presence of low percentage of alcohol is infusing a change of perception among the Indian consumers making premixed alcoholic beverages a potent candidate to replace pure alcohols. The underaged or entry level drinkers are the primary target for companies foraying into the segment in India.
Changing Living style:
One of the major drivers for India Instant Beverages Pre-Mix market is the changing lifestyle of the consumers. Indian society has been witnessing a paradigm shift from prominence of joint families to nuclear families. Also, the country is moving towards the point where both parents are working and bringing in income, therefore the lifestyle and routine of people has changed, influencing their food & drinks consumption patterns. Another aspect of the changing lifestyle of consumers is an increase in the income of working women in the country. With women spending more number of hours at work, there remains less time to prepare meals at home which is fueling the demand for instant beverages pre-mix in the country at a rapid rate.

Source: World Bank
In conclusion, the India Instant Beverages Pre-Mix market is projected to grow at a CAGR of over 10%, in value terms, during 2017-2022.  Time saving element along with convenience, taste and quality assurance is going to raise its demand among youth population. Moreover, the increasing discretionary income of households, rising number of working population and organized retailing in India are some other factors which can be attributed for the growth in India Instant Beverages Pre-Mix Market through 2022.
Conclusion:
Some of the major players operating in the India instant beverages pre-mix market are Nestle India Limited, Mondelez India Foods Private Limited, Heinz India Private Limited, Mondelēz International, Rasna International Pvt. Ltd., Unilever, Dabur etc.