October 10, 2017
Global Wearable Technology Market: Wear Your Innovation
Wearable technology products have recently gained popularity over the past few years, due to advancements in technology and growth in the trend of innovation. From healthcare to military & defense sector, such technology is prevalent due to ease of use, flexibility, and convenience. They are also known for characteristics such as saving time, enables real-time data monitoring and also offers operational efficiency. Fitness tracking, security profiling, and network monitoring are some of the major factors contributing towards the higher adoption of wearable technology.
Product Overview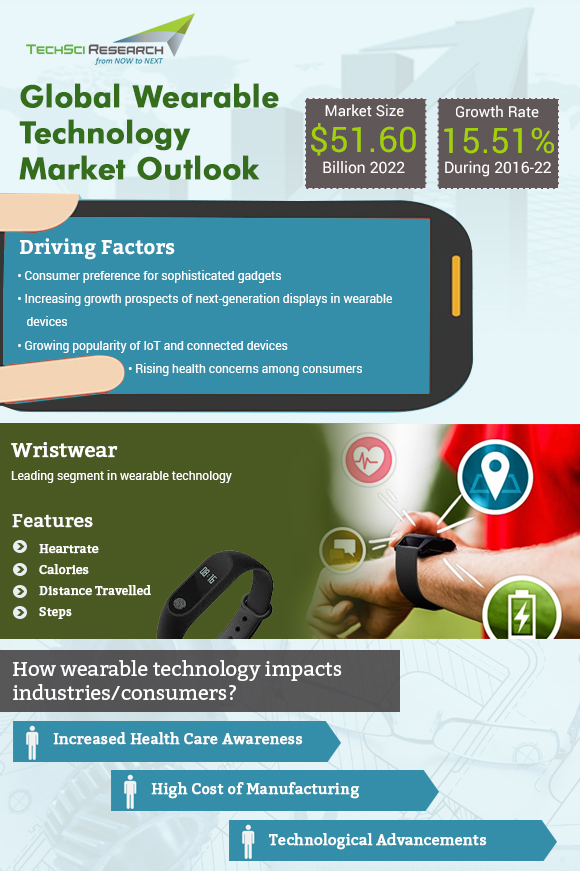 Wearable technology (also called wearable gadgets) is a category of technology devices that can be easily worn by a consumer and often include tracking information related to health and fitness. Other wearable tech gadgets may also include devices that have small motion sensors to take photos and sync with your mobile devices.
Global Analytics Market: Overview
The wearable technology market size is expected to reach USD51.60 Billion by 2022, at a CAGR of 15.51% between 2016 and 2022. The wearable technology market is expected to grow because of various driving factors, such as consumer preference for sophisticated gadgets, increasing growth prospects of next-generation displays in wearable devices, and growing popularity of Internet of Things and connected devices.
The growth of the global wearable technology market is driven by convenient usage of wearables and entry of various smartphone manufacturers. Moreover, rising health concerns among consumers pushes the adoption of wearable devices, which enable them to provide real-time information on their overall health. Multiple benefits are being offered by these devices such as GPS tracking, heart monitoring and notification. In Addition, rise in disposable income of consumers and increase in standard of living is propelling the growth of the global wearable technology market.
[Tweet "Wearable Technology Market size is Expected to Reach USD51.60 Billion by 2022."]
Figure 1: Global Smart Wearable Devices Market Size, By Volume, 2012–2021F (Million Units)

The wearable technology market for the enterprise and industrial application is expected to grow at a highest CAGR between 2016 and 2022. This growth is mainly attributed to the increasing demand for wearable scanners and computing devices in logistics, warehouse and other operations. Enterprise and industrial wearable devices include compact, mobile and wireless computing systems that could be worn on the body (for example, ring scanners) as well as various image scanners that find applications in the enterprise and industrial processes.

The wristwear product is expected hold largest share of the wearable technology market between 2016 and 2022. The factor for this growth is attributed to key industry players who are introducing products with advanced features to serve customers need of fitness and healthcare. Wristwear measures fitness and healthcare parameters, which includes detection of status of heartrate, calories, distance travelled, and steps. All such parameters could be synchronized with a mobile to store data. Moreover, people could access the mobile through wearable devices with the help of wristwear's.
Players Info
Latest IDC Worldwide Quarterly Wearable Device Tracker, which states that Fitbit shipments were down 22.7 percent in the fourth quarter of 2016: 6.5 million units compared to 8.4 million units in the same period in 2015.
Overall, the amount of wearable tech devices shipped increased from 29 million units in 2015 to 33.9 million in 2016 – a year-on-year growth of 16.9 percent
Xiaomi was the fastest grower – up 96.2 percent from 2.6 million to 5.2 million, due to its growing exposure in the western world but mainly because of Chinese shipments for its newest trackers such as the Mi Band Pulse. Apple saw a steady increase of 13 percent, from 4.1 million to 4.6 million, following the launch of the Apple Watch Series 2.
Garmin's shipments dropped by 4 percent. However, the report states that the GPS giant raised its average selling price (ASP) to $258 from under $200 the previous year.
Back in mid-2015 CCS claimed that around 20 million Apple Watches would be sold in the calendar year, but it is now stating that just over 9 million Cupertino smartwatches were sold before 2016 arrived. That's a number that gives it, according to the report, a 41 percent market share.
CCS claims 5 million VR headsets were bought by early adopters last year, mainly in the low end mobile VR headset market populated with Google Cardboard compatible devices and Samsung's Gear VR range. It says 96 million VR headsets will be shipped in 2020, with the likes of Oculus Rift, PlayStation VR and the HTC Vive expected to dominate.

Impacting Factors
Increased Health Care Awareness
Growing concerns of obesity and other chronic diseases have led to adoption of smart wearable devices such as activity trackers and body monitors, which provide real-time information about the overall health of the body. These wearable devices can provide information such as cholesterol levels, calorie intake, quality, heartbeat monitoring and quantity of sleep, oxygen levels, blood pressure, as well as other information required by the body for day-to-day activities.
High Cost of Manufacturing
The initial cost of manufacturing the wearable devices is very high leading to high prices for the ultimate consumers. The producers of the wearable devices have to spend a lot of money on research, marketing & promotion, shipping, licensing, software, and development of wearables due to which the cost incurred is substantially high.
Technological Advancements
The deployment of small sensors into fabrics, smartwatches compatibility to interact with social media, instore merchandising and ease of payment with wearables are some of the examples of advancement in wearable technology. The adoption of smartwatches has revolutionized watches to possess the characteristic of being multifunctional. In near future, users are expected to prefer smart watches to their analog counterparts, due to technological advancements. Wearable devices companies are investing heavily in R&D to devise optimum solutions to gain a higher market share. Growth in technological features and advancements is expected to drive the wearable technology market during the forecast period.