November 21, 2017
Global HVAC Market Analysis 2017-18
Global HVAC Market Analysis 2017-18
HVAC Heating, ventilation and air conditioning (HVAC) is a technology used to create a comfortable indoor environment with acceptable indoor air quality and thermal comfort. HVAC is an important part of apartment buildings, single family homes, hotels, medium and large offices and industrial buildings. Primary function of heating, ventilation, and air conditioners is to provide acceptable indoor air quality with reasonable maintenance cost.
A New Experience of Home Comfort and Efficiency
In the current scenario hybrid HVAC systems are becoming standard in residential construction market. The hybrid systems comprise of numerous HVAC devices to increase the efficiency and comfort and which also includes both traditional and renewable energy sources. A house today can be built with air-to-air heat pump, which are able to meet 70% of the home's heating and cooling requirement. The home builder, home owner and HVAC contractor can work together to identify one or more additional HVAC mechanical system to meet the remaining 30% of that home requirement. For the optimal energy efficiency and comfort six mechanical devices are to be integrated into one HVAC system. The devices are an air-to-air heat pump, a boiler, a solar-thermal system, a water heater, a buffer storage tank, and a radiant heating system. Each of these devices has their own control system, and all six control systems must be tied into a one hub, which can register what each of the other devices is doing at any given time. This is achieved by employing a home automation system strategy.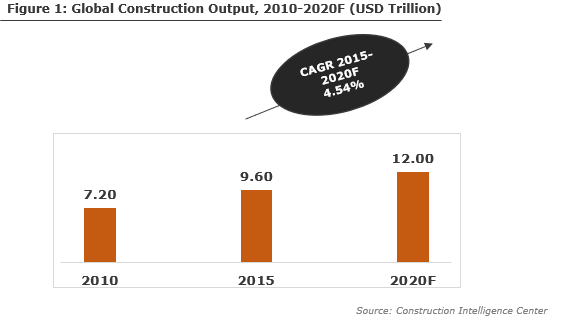 Sustainable Green HVAC Systems in Health Care Facilities
Shift towards green technology is one of the key trends upcoming in the market. With the advent of hybrid systems and non-polluting refrigerants such as HFC, HVAC vendors and end-users are shifting toward green technology. HVAC vendors are developing new heating and cooling equipment, which is compatible with the eco-friendly refrigerants such as R32.
Category of HVAC Systems
Central Plant

Boilers, Chillers, Cooling Towers
A Few Pieces of Large Equipment

Distribution Systems

Pumps
Pine & Control Valves
Ductwork, Diffusers & Registers

Secondary & Zonal HVAC Systems

Air Handlers, with coil & economizers
Fan Coil, VAV Boxes

Selected based on

Space temperature and humidity requirements
First cost, operating cost, and maintenance cost
Spatial constraints
Redundancy

Heating

Typical fuels are electricity and natural gas
Efficiency matters

Electricity is 100% efficient
A heat pump is much more efficient than resistance heat; typically
Natural gas typically is 80% efficient

Cooling

Central Chiller
Water cooled or air-cooled Water cooled requires cooling tower or heat rejection

Boilers

Hot water more common for smaller buildings
Usually natural gas, but sometimes electric or oil
Global HVAC Market
China accounted for the highest market share of around 35%, in value terms, in Global HVAC market in 2016, wherein, rest of the Asia Pacific region accounted for around 20% followed by North America region. This can be attributed to the fact that China is the largest manufacturer of air conditioners, globally and contributed the maximum share in the exports of air conditioning products.
Rising need for energy efficient HVAC systems, increasing construction activities, developing infrastructure in emerging countries and growing replacement demand of HVAC systems in developed countries are key factors driving Global HVAC market. Global HVAC market is forecast to exhibit an average annual growth rate of 7.2% by 2021. Moreover, emerging economies are expected to increase their infrastructure activities and industry base, thus fuelling demand for HVAC instruments in the coming years.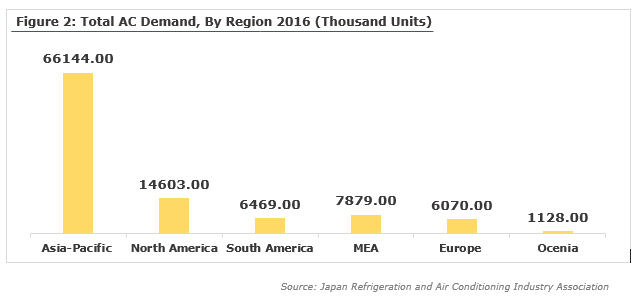 GLOBAL HVAC INDUSTRY- MAJOR MANUFACTURERS