March 6, 2023
In recent years, vaping has become quite a trend, particularly among young population! As per statistics, 1 in 20 Americans vape, which include 14.1% of high school students and 3.3% of middle school students. United States leads in the global vaping consumption, followed by United Kingdom and Japan. In 2022, the global vaper population reached 70 million, a significant increase from 7 million in 2011. Vape has become a preferable choice for consumers since it is considered a safer alternative to smoking tobacco cigarettes.
Unlike cigarettes, vaping does not produce same harmful chemicals found in traditional cigarettes. Besides, vape pens are compact, portable, and come in a variety of flavours, which give consumers a joyful experience. Moreover, consumers find it appealing that vaping does not emit any bad odour and taste good in mouth. The target group for vape market players are both smokers and non-smokers since the US FDA has authorised a vape product for sale in the US, deeming it to be appropriate for the protection of public health. Hence, people of all age groups are inculcating vaping as a part of their lifestyle, which has led to its increased adoption.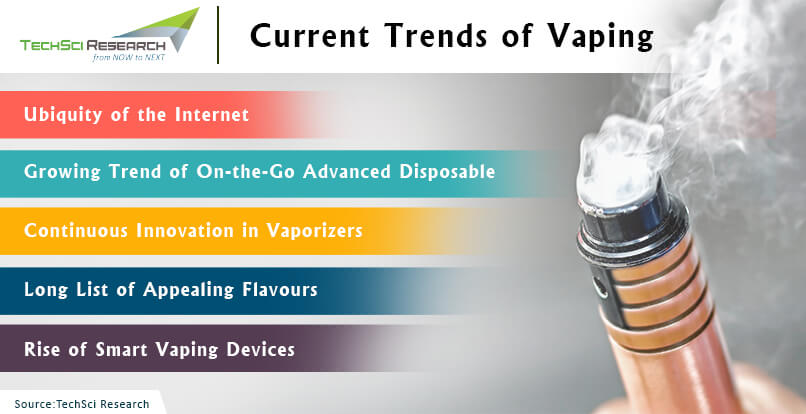 Here are some of the factors that has made vape a global phenomenon.
Ubiquity of the Internet
As of 2023, nearly 4.9 billion people are social media users, most of which consist of people within the age group of 20-29. Understanding the vast reach of the social media, the vaping industry market players are heavily advertising e-cigarettes and vape pens to cater to the users. The platform allows advertisers and marketers to share content about their products, which appeal to many social media users. With the growing trend of hyper-personalization, the advertisements are now being focused on individual user's demographic characteristics or search histories, which significantly influences users, especially adolescents.
Users on social media platforms such as YouTube and Instagram are showcasing the correct use of vapes, sharing their opinion on vapes, or talk about different flavours, which is rapidly making the use of e-cigarettes a socially accepted behaviour. As per recent studies, high social media usage leads to greater susceptibility towards the use of vapes. Moreover, vaping-related posts are largely unregulated as individual platforms make different choices on what to allow for users. For instance, Instagram does not allow marketers to post ads pertaining to vaping, but vape manufacturers pay for 'promoted' posts about their products. Hence, people are developing positive opinions of vaping in general, resulting in their accelerated adoption.
Growing Trend of On-the-Go Advanced Disposable
People looking for a convenient and easier way to satisfy their cravings are switching to disposable vape pens, which are single-use devices that can be disposed once the e-liquid runs out. They are easy to use and do not require changing of any settings or assembling any parts. Many disposable vape pens are perfect for beginners or individuals who just started switching from cigarette smoking to vaping. Besides being user-friendly, vape pens are economical than traditional smoking. A vape pen costs around USD50 to USD150 and last about a year, depending on the brand, intensity, design, type of liquid.
Some distributors of vape pens have a recycling program, which allow them to reintroduce the disposables into the market and hence produce less waste. Moreover, disposable vapes do not cause displeasure to people around the consumers as they do not leave bad odour. Disposable vaping products are dominating the convenience stores, gas stations, other retail channels as well as online platforms. Rising accessibility of vapes through different online channels are contributing to the overall growth of the segment. FDA banning non-disposable vapes in 2020 has opened market for flavoured disposable products.
Continuous Innovation in Vaporizers
Vape have evolved over the years with improvements in terms of technology, flavours, and designing. Recently, VapeAway introduced first-ever patented technology designed to help reduce vaping dependency. The filter is attached to an existing e-cigarette pod, which automatically eliminate toxins and thus have minimal impact on the quality of vaping experience. The pod system is also something that fascinates vape lovers since they can easily fill the e-liquid of your choice in the Pod device. Some vape pens have rechargeable batteries that have long timing. Some advanced vape devices also offer Bluetooth features that allow users to check their vape hours and analyse nicotine content. Some market players in the vaping industry have come out with Sub-ohm vapes, which are capable of making thick clouds and increase the throat hit.
Manufacturers are using materials such as ceramic, stainless steel, and glass to produce vaping devices, which make them more resistant to wear and tear as well as heat. The advantage of using advanced material in the manufacturing of vaping devices is that the device gives enhanced performance. For instance, ceramics used in the construction of vaping devices provide consistent and efficient heating.
As society is becoming more aware of the technology, they are enjoying vaping more than ever and hence market players are investing in R&D initiatives for more innovation.
Long List of Appealing Flavours
The diverse variety of flavours offered by the market players has been one of the major drivers behind the meteoric rise of the vaping industry. A growing number of vape consumers are looking for new and exotic flavours to expand their palate and hence turning to custom vape juices. The DIY trend among vapers and hobbyists are creating more opportunities for e-liquid manufacturers to introduce new varieties.
Rise of Smart Vaping Devices
Smart vaping devices go beyond the basic e-cigarette design and consists of sensors, software, and communication technologies. These devices allow users to have unprecedented control and enable them to customize the device as per their needs. For instance, some smart vaping devices let users adjust the temperature and intensity of vapour, which increases the experience of vaping experience. The smart vaping device also provide users with a greater control over nicotine intake.
Some manufacturers incorporate sensors into the packaging, which provide users with real-time information about their vaping products, nicotine levels, and usage patterns. The data can be further used to make informed decisions about nicotine consumption, which can help users to regulate their vaping. The AI-powered vaping devices learn and adapt to the vaping habits of the users, providing them more customized and user-friendly experience. The AI technology is also able to track the user's preference such as type of e-liquid used, temperature and duration of the session, intensity of vapor, etc. Leveraging the information, device can automatically adjust settings and provide a customizable experience to the users.
Way Ahead
With regulations becoming much stricter on the use of vapes and e-cigarettes, the manufacturers are focusing on making their products less harmful alternative to tobacco than can wean smokers from traditional cigarettes. The dwindling percentage of smokers due to growing use of vaporizers might means less opposition from regulatory authorities. Already there is bipartisan support for lowering nicotine in cigarettes, which may only strengthen as smoking becomes less common. The UK Government is urging smokers to make switch to safer alternatives such as vaporizers. More such initiatives by the government to reduce cigarette consumption could boost the growth of vaping in the years to come.
According to TechSci Research report on "E-Cigarette Market – Global Industry Size, Share, Trends, Opportunity, and Forecast, 2018-2028F Segmented By Product Type (Disposable, Rechargeable, Modular), By Flavor (Tobacco Vs. Non-Tobacco (Fruit, Desserts, Others)), By Distribution Channel (Specialty Stores, Tobacconist, Online, and Others), By Region, By Company", the global e-cigarette market is expected to grow at a formidable rate during the forecast period. The growth can be attributed to the rising consumer preference towards flavoured e-cigarettes and rising demand for non-tobacco products.