December 9, 2021
Electric Vehicle Owners Demanding Wireless Chargers in the US
With an increased focus on sustainability and the environment, electric vehicles are becoming hugely popular. Despite supply chain disruptions caused by the COVID-19 pandemic, EV vehicles sales in the US have been record-breaking in 2021, with 310,000 EVs sold in the first half of the year, which is close to the 2020 total of about 322,000 for the entire year. But keeping them energized will require the installation of tens of millions of charging stations, which will likely cost nearly USD50 billion by 2030, according to a study. US President Joe Biden has stated its goal for establishing 500,000 public electric vehicle chargers by 2030, passing a bipartisan USD7.5 billion bill to promote EV uptake and meet aggressive targets of air quality and climate goals. 
In a world where electric mobility depends on the effectiveness and convenience of charging solutions, wireless EV chargers serve as the perfect alternative to plug-in hybrids. The new wireless technology for EV charging follows the same principles found in the charging pads for phones, but it has a more advanced version with several differences as EV requires higher voltage and power transmission. The inductive technology allows EV owners to ditch the cable and provide the convenience for fast charging at home, work, or public charging stations. The first global standard for wireless electric-car charging (SAE J2954) announced by the SAE International (formerly known as Society of Automotive Engineers) applies to inductive charging systems up to 11 kilowatts.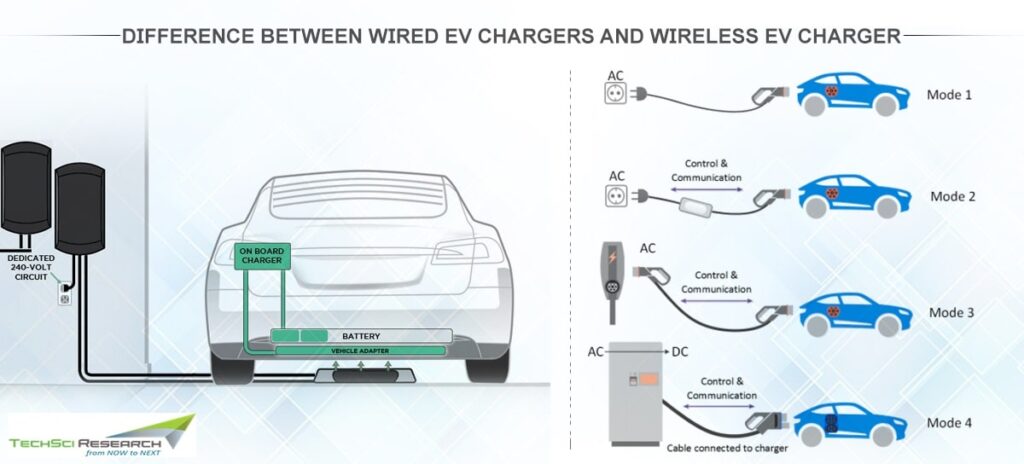 Transition from Plug-in Charging to Wireless Charging for Future Mobility
Limited charging infrastructure is not the only barrier for EV adoption, but also the complexity of EV charging options when choosing the correct plug to enable charging also poses a challenge. Manually plugging the charger into EVs is very much a case of following the old pattern of powering vehicles. Wireless EV charging will be the reality of our future mobility ecosystem, which is electric, autonomous, and shared. Most Level 1 and Level 2 EV chargers operate in the 88-95% efficiency range end-to-end while leading wireless chargers to operate within the efficiency range of 90%-93%. The electric fleets require to be constantly plugged in and fully charged, significantly affecting the availability and return on investment. But wireless chargers solve this issue as the charging begins automatically once the car is parked over the charging pad.
Wireless charging enables always-available bi-directional charging (vehicle-to-grid), which can help utility companies handle increasing peak demand as they are looking for an increased mix of renewables in the electric grid. Wireless V2G stores power and provides a new source of value for the EV owner. Hence, wireless charging for EVs is gradually shifting from being "something nice to have" to being a "must-have."
Several auto manufacturers such as Hyundai, Porsche, Audi, BMW are looking for a solution to break the adoption barrier for wireless charging. Nearly every electric car manufacturer has plans to make EV charging hand-free in the next-generation models. Furthermore, industry groups such as SAE international, IEC/ISO (global), and CATARC (China) are bringing forward industry standards to ensure that drivers do not find difficulty finding wireless chargers that work in different regions.
How does Induction Charging Work for Electric Cars?
Wireless charging is based on the principle of electromagnetic induction. The wireless technology allows electricity to be transferred from one device to another without any physical contact or requiring plug-ins. This kind of charging requires a transmitting pad (physically connected to a grid) that induces a magnetic field, the action of which generates an electric current in the second coil on the receiving end placed at a few centimeters. Therefore, charging systems are also known as "near field." The electric car just needs to be parked over the charging pad precisely to send an electric current to the vehicle.
A magnetic loop antenna (copper coil) creates an oscillating magnetic field of appropriate capacitance. The loop resonates at the same frequency, and the induced current at the receiver end increases. The more the number of coils, the greater the distance of power transfer. For instance, in wireless smartphone chargers, the copper coils are less, limiting the distance over which power can travel efficiently. Besides, the greater the coil size, the more the energy can be transferred to the receiving end.
The wireless charging system delivers direct current up to 11 KW at the maximum voltage. The placement between the charging pad and vehicle should not be more than 10 inches. The charging efficiency of wireless charging pads is up to 94%, comparable to wired connections, but the SAE is now working on higher power levels for future passenger vehicles. Charging pads are equipped to guide the vehicle to the correct spot for efficient charging.
Although the technique delivers high amounts of power with cablelike efficiency, the delicate link between the coils can disturb the system, affecting the frequency of magnetic vibration. Thus, moving the transmitter or receiver even a little bit can break the wireless connection for such kinds of setups.
Promising Projects for Wireless EV Charging
· WAVE (Wireless Advanced Vehicle Electrification)
A US-based startup and high-power inductive charging solution provider for medium and heavy-duty vehicles, WAVE (Wireless Advanced Vehicle Electrification) Inc., developed a 1 MW wireless charging system for Class 8 electric trucks. WAVE's system is being already utilized by several electric buses operating in the US, currently available at the capacity of 50kW and 250 kW, which would be further expanded to 500 kW and 1000 kW in the future. WAVE is leveraging new electronics and building a new coil design to increase the operational efficiency of chargers.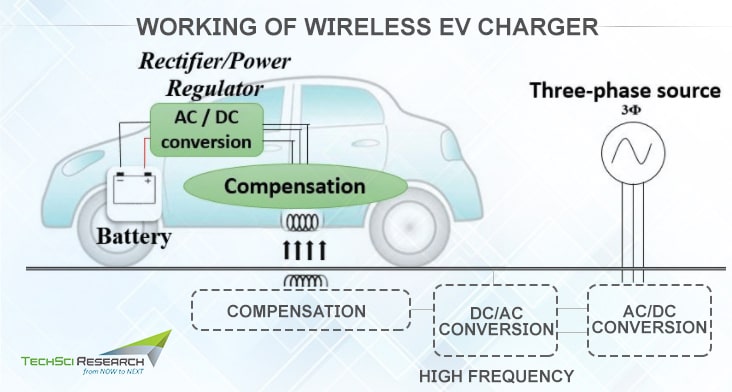 At 1 MW, the system would be able to charge the T680 batteries in less than 30 minutes or even less compared to 250 kW chargers that power the passenger vehicles in 1.5 hours or more. The megawatt level charging would eliminate mechanical movement and human contact associated with current charging technologies as well as enable fleet operators to extend the range of heavy-duty EVs. Additionally, the fully automated hands-free wireless charging solution would facilitate greater route lengths with smaller batteries, expedite energy connections, and reduce maintenance costs.
· ASPIRE (Advancing Sustainability through Power Infrastructure for Road Electrification)
The Indiana Department of Transportation (INDOT) has collaborated with Purdue University and Germany-based company, Magment for the development of roads that enable wireless charging of EV cars as owners drive upon the road. Magment created a concrete mixture filled with magnetic particles, which features wireless transmission efficiency of up to 95%. The road can accept universal charging that works in all weather conditions while offering high thermal conductivity. Currently, Purdue is conducting tests and optimizing technology to ensure the usability and viability of the infrastructure. The first real-world testing would be performed on the public roads of the Indiana State for heavy trucks above 200 kW. This project is a real step towards the future of dynamic wireless charging, which could set the standard for affordable and sustainable transportation electrification.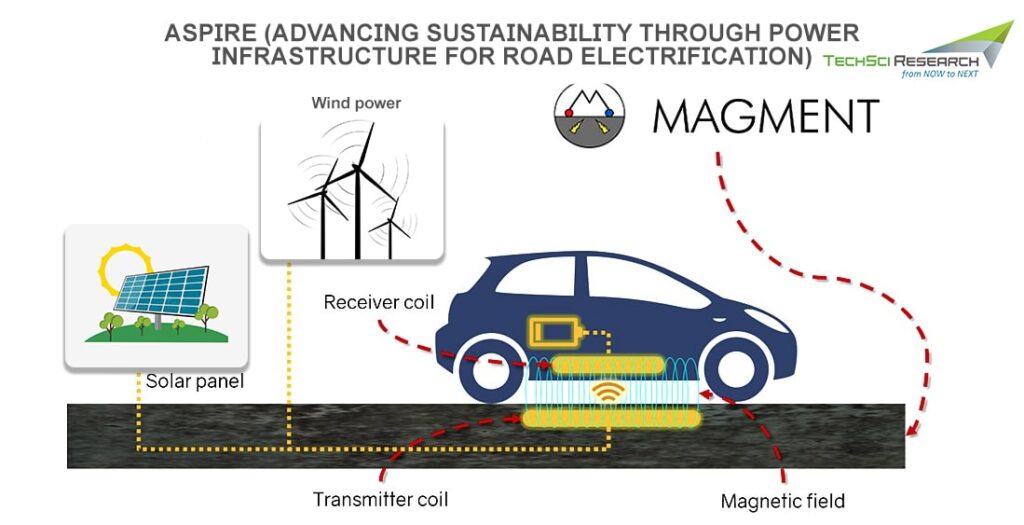 · Tesla Wireless Charging System
Tesla Semi electric truck, soon-to-be-launched, has massive battery packs (approx. 800 kWh) that require to be charged very quickly. To simplify and accelerate the charging process, Tesla has planned to deliver wireless charging systems with a capacity of 500 kW or even 1 MW. The company plans to develop inductive wireless charging technology that provides over 400 miles of range with a 1 MW charger in just 30 minutes. Since a high output of 1 MW could cause potential dangers, Tesla filed for a liquid-cooled charging connector, which it uses in V3 Superchargers.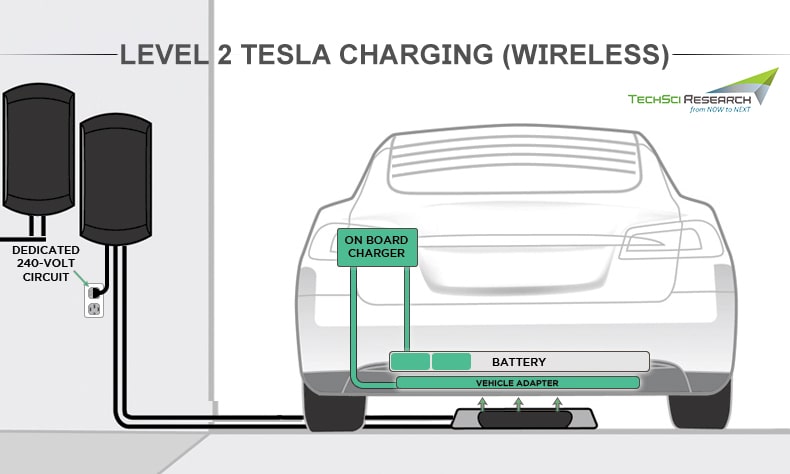 Challenges Ahead
Although wireless charging systems are the best way to accommodate the evolving demands of electric vehicle owners, there are significant inefficiencies involved with them. While charging cables allow nearly 100% energy transfer from source to the battery, wireless charging systems can have efficiencies as low as 60%, contributing to even more CO2 production. Besides, wireless charging is unlikely to work on roads as the charger embedded into the road needs to be raised (behaving like a speed bump) to charge the EV since it only works in limited proximity. Wireless chargers are also dependent on the number and size of coils, so all manufacturers would need to conform to a specified coil size, turns, and power rating, which is similar to the issues that current manufacturers' problems faced with the plug-ins.
Conclusion
The automotive industry is changing faster than ever, unlocking the full potential of electric and autonomous vehicles. Innovations in electric vehicle charging infrastructure for transparent, convenient, and efficient charging is crucial for the rapid adoption of EVs in the country. However, it would be a long time until wireless solutions become a part of mainstream charging infrastructure. The only certain thing is that the network of fast-charging solutions would gradually expand, and that recharging would become more accessible as more options continue to evolve.
Blog : https://www.techsciresearch.com/blog/electric-vehicle-owners-demanding-wireless-chargers-in-the-us/267.html