November 9, 2021
Demant A/S Leading Global Hearing Aid Market
According to a report by the World Health Organization, over 430 million people (5% of the global population) require rehabilitation to address their hearing impairment, while approx. 2.5 billion people are expected to develop some form of hearing problem by 2050. Nearly 25% of the population above 60 years tend to develop hearing problems ranging from mild to severe in one or both ears with gradual aging, affecting conversational speech. People with severe hearing problems usually opt for hearing aids, implants, or other assistive devices for communicating through spoken language.
International hearing aid provider Demant A/S has been offering a broad range of premium hearing aids, accessories, and applications for more than 110 years to people with hearing impairment. Demant's world-leading hearing aid technology is shaping the future of healthcare technology with ground-breaking innovations, enriching the hearing experience of people with mild-to-severe hearing impairments effortlessly. The new models come with rechargeable batteries as well as are compatible with iPhone and select Android devices. The company provides implants for all age groups, including children, adults, and the elderly, well-liked by users and well-received by reviewers.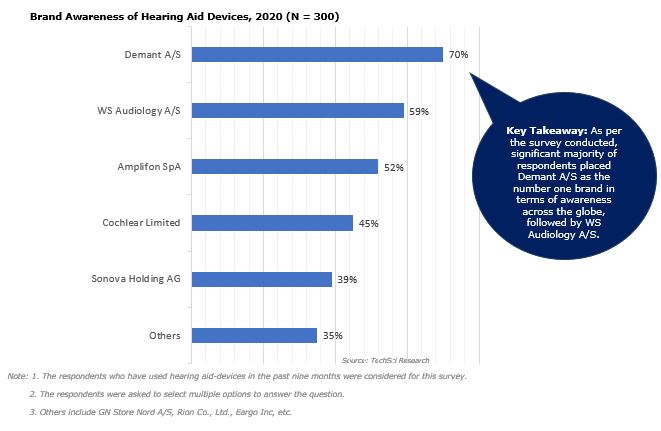 Key Oticon Product Offerings
• Oticon More
Oticon More hearing aid activates the brain's natural ability to process sounds, allowing users to have an outstanding hearing experience, impressive sound quality, and excellent speech understanding. The device is built upon Oticon's newest technology and uses an onboard Deep Neural Network (DNN) trained on more than 12 million real-life sounds. The integrated intelligent microchip, Polaris platform supports Oticon More's technology and optimizes how the hearing device makes the sound more distinct.
The hearing aid comes with a travel friendly SmartCharger, capable of providing a minimum of three total charges, enabling users to charge on the go and wherever they go. The ConnectClip feature allows users to stream sound from a modern smartphone, tablet, or computer directly into the hearing aid and thus enjoy full, warm, and clear music. Functional as a remote microphone, ConnectClip can be beneficial for you to hear better in more complex situations. Overall, Oticon More is easy to wear and uses hearing aids that offer nuanced access to sound and great audio streaming while delivering a crisp and clear speech.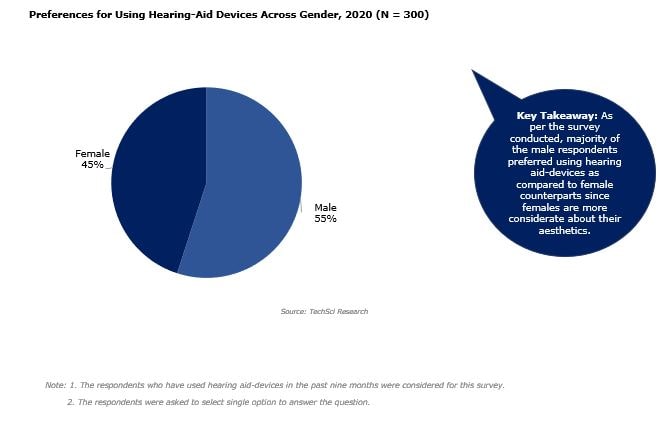 • Neuro 2
Since the first cochlear implants launch, Oticon has made tremendous improvements, leading to enhanced outcomes for users. The company launched Neuro 2 sound processor in 2018 with improved design, smaller size, lighter weight, and new powering options. Built on the Inium Sense chip platform from Oticon, Neuro 2 is the smallest FDA-approved behind-the-ear technology with ultra-strong discreet cable and designed for all-day comfort. Neuro 2 incorporates additional ergonomic and mechanical design features such as resistant microphones and antenna cables, making hearing aid comfortable for children.
Neuro 2 utilizes a range of different Brain Hearing-guided sound processing features that provide maximal audibility and deliver more natural sounds so that users are always in the optimal listening situation. The hearing aid has been designed to deliver better speech understanding in low-noise cases, where users spend most of their time. Therefore, Neuro 2 is the best implant option for people with hearing ailments to enhance their lives and keep them in great mental shape.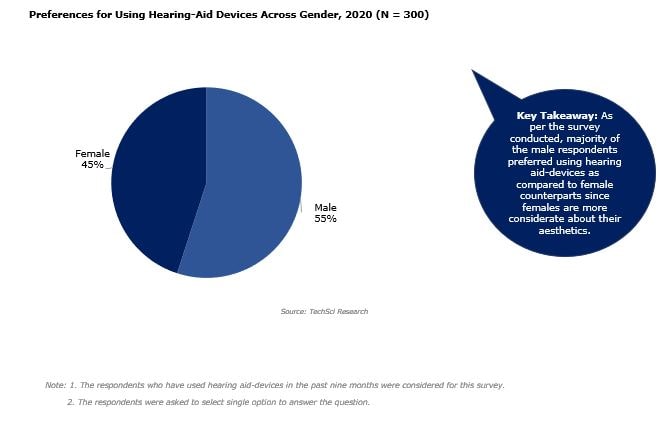 • Bernafon Viron Hearing Aid
Bernafon, a Swiss hearing aid brand, shares some Oticon technology but has very different strategies and features that make the brand unique. Bernafon utilizes a Dynamic Environment Control System (DECS) that does not use hard classification boundaries, instead works in a frequently changing listening environment for a dynamic and seamless amplification for the user. Bernafon Viron Hearing Aid's super-fast and powerful chip includes innovative dual-radio wireless technology with 2.4 GHz so that users can enjoy direct-to-ear streaming.
Viron consists of a set of sophisticated features from Bernafon such as Dynamic Range Extender (manages loud input sound), Frequency Composition feature (makes high-frequency sound information accessible to you), and Adaptation Manager (allows users to get accustomed to hearing aids).
• Sonic Radiant
Sonic Innovation's Radiant hearing aid is the first hearing instrument built on the newest hearing aid technology, Sonic Extend technology platform. The intelligent technology filters and fine-tunes sounds within your surroundings as well as reduces background noises while amplifying speech. The hearing aid utilizes a lithium-ion rechargeable battery that eliminates the need of carrying batteries all the time since the user just requires a simple three hours of charging every night.
The new hearing aid is equipped with a dual microphone that increases speech and reduces background noises, enabling you to hear the conversation happening in front of you more clearly. One of the best features of Sonic Radiant hearing aid is that it allows more remote adjustments such as adjusting the low, high, mid frequencies while streaming with the help of the SoundLink 2 app.
• Sonic Captivate Hearing Aid Family
Sonic's new Captivate hearing aid family has been designed to provide a personalized hearing experience that delivers better feedback and background noise control. Sonic has incorporated a new technology, Adaptive Feedback Canceller Pro, to minimize distractions from feedback in both static and dynamic changing conditions. Besides, the processing power of the SoundDNA platform in Captivate models allows patients to hear their voices naturally compared to previous technologies.
The three systems, Speech-in-Noise Reduction, Speech-in-Noise Directionality, and Speech-in-Noise Engage, collectively enhance speech understanding in noise and help patients who are very sensitive to noise. Sonic's newest rechargeable hearing aid offering, Captivate miniRITE T R features a built-in telecoil, dual push button, and Lithium-ion battery. Added convenience to the hearing aid include on/off LED indicator, wall charger, USB 2.0 compliant options, and power bank.
• Sonic Enchant miniRITE
Enchant miniRITE by Sonic has been designed to provide all-day power without the need for regular battery changes. The ZPower rechargeable battery system powerednew Enchant miniRITEcomes with advanced features like Bluetooth streaming, which gives users confidence to use the hearing aid anywhere throughout the day without caring to charge them from time-to-time. Enchant offers patients fast and direct wireless connectivity while the SoundDNA platform powers the new 2.4 GHz Dual-Radio System, which allows patients to stream audio directly via their iPhone. The system incorporates Near Field Magnetic Induction for faster ear-to-ear communication so that you can engage in a conversation without any hesitation. With new built-in technology like Extended Dynamic Range, the patients can enjoy superior clarity as sound tends to grow in intensity at venues such as theaters, auditoriums, movie halls, etc.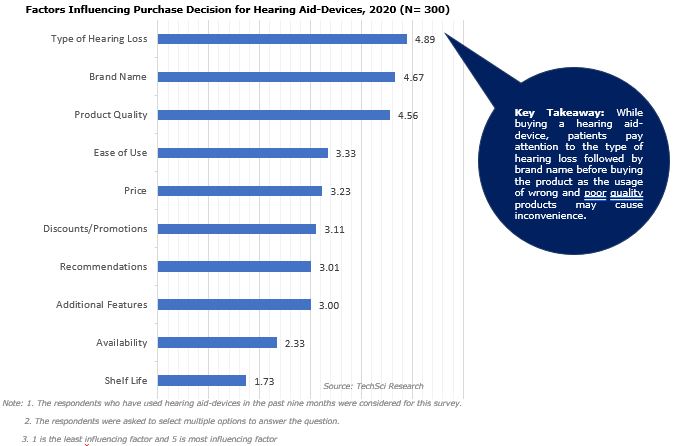 Non-Hearing Aid Gadgets
• EPOS ADAPT660
Enterprise-level business capability and outstanding audio performance make Bluetooth headset EPOS ADAPT 660 a premium choice for professionals at work or play. The incredibly lightweight headsets with responsive touch controls and Adaptive Noise Cancelling provide excellent voice and call quality, which can bring some sanity and comfort back to your workday. The headsets have a battery life of up to 30 hours. They are comfortable to wear throughout the day due to the rounded ear cups' angle that provides an extra degree of comfort and enhances your audio experience during calls or video meetings. The soft ear covers ensure that the sound remains restricted in the cushioned and soft oval pads.
The ADAPT 660 headset incorporates ground-breaking AI technology that uses unique machine learning developed algorithms to evaluate the noise around you and optimize voice pick-up regardless of your environment. Thus, the advanced headsets are great for use at any location, whether a noisy train, chatty open office environment, etc.
Other Brands Providing Hearing Aid Devices
• Sonova Holding AG
Sonova is one of the top five largest global providers of hearing solutions and implants. Its subsidiary, Phonak, is the only company to offer a completely invisible hearing aid called the Lyric, made with innovative hearing aid technologies to provide better sound quality. Besides, Phonak's broad range of hearing aids, including 30 models of hearing aids and 20 wireless accessories, help to treat different types and severities of hearing loss. However, it does not provide cochlear implants. Phonak hearing aids can be worn 24/7, and the devices are compatible with Bluetooth and have built-in rechargeable batteries. Users have the flexibility to choose the style of wearing the hearing device as per their preference, whether receiver-in-canal, behind-the-ear, or in-the-ear.
• GN Store Nord
World leader in human ear sound processing and hearing aids, GN Store Nord owns a handful of audio tech brands such as Jabra, Interton, BlueParott, Falcom, and Beltone, which sell its products in over 100 countries worldwide. In February 2021, the company launched ReSound Key, a hearing aid lineup that adds value to its existing hearing aid devices technology globally. The recent innovation comes with direct connectivity through 2.4 GHz streaming technology and direct stereo sound streaming for Apple devices. The hearing aid also offers a variety of auxiliary devices to help people with hearing impairments better understand group conversations and listen to a voice from a distance, etc.
Conclusion
Thanks to ground-breaking innovations by key market players in the global hearing aid devices market, hearing aid technology has improved a lot in the past few years. Even some of the basic digital hearing aids work far better than the best hearing aids of previous generations since they have more features to help one communicate better under challenging situations. While Demant A/S leads the global hearing aid devices market, other key market players like WS Audiology A/S, Amplifon SpA, Cochlear Limited, Sonova Holding AG, and others are fiercely competing to remain at the top of their game. Increases in mergers & acquisitions, adoption of the latest technologies, and various strategies such as product portfolio expansion are boosting the growth of the global hearing aid devices market.
According to the TechSci Research report on "Global Hearing Aids Market, By Product Type (In the Ear Hearing Aids, In the Canal, Completely in the Canal, Behind the Ear and Receiver in the Canal), By End User (Hospital, Clinics & Individuals), Competition Forecast & Opportunities, 2015 – 2025", the global hearing aids market is anticipated to grow at a CAGR of over 4% during the forecast period. The growth can be attributed to the increasing incidences of hearing problems, excessive noise pollution, and continuous innovation by key players in the market. 
Blog source : https://www.techsciresearch.com/blog/demant-a-s-leading-global-hearing-aid-market/256.html