February 15, 2022
Data Centers to Power Up Indian Economy
Data is an important asset for any organization, driving every decision, pivot, and objective. According to The Economist, 97% of businesses leverage data to power their business opportunities, while 76% of businesses use data as an integral part of forming their business strategies. Comprehensive and high-quality data validated by skilled analytical professionals enables enterprises to make informed decisions and gain a competitive advantage to maintain their edge. As the entire ecosystem is growing perennially around Big Data and Data Analytics, businesses are constantly met with the imminent challenges of managing data while ensuring data compliance. Organizations realize the dynamism of what can be done with data and hence are moving from their existing resources to well-equipped data centers to aid better data management. Data centers equip computer systems and associated components such as telecommunications and storage systems, the backup component in case of a system failure, and various security devices. However, these data centers have moved beyond just being an additional storage facility and emerged as a vital component of the global economy.
At present, India is home to over 80 third-party data centers, and the number is expected to increase in the coming years as the country is set to become a truly digital economy. India's data center market is anticipated to reach USD4.6 billion by 2025, according to a report by NASSCOM. India's exponential growth in data creation and consumption is driven by the increasing use cases around artificial intelligence (AI), machine learning (ML), and the Internet of Things (IoT). Additionally, the volume of data is rising with the increasing number of platforms for online gaming, over-the-top (OTT) players, social media, streaming, e-commerce, and online education sites in the country, thus creating a need for more cloud service providers and data centers with robust digital infrastructure to cater to the growing demands of users.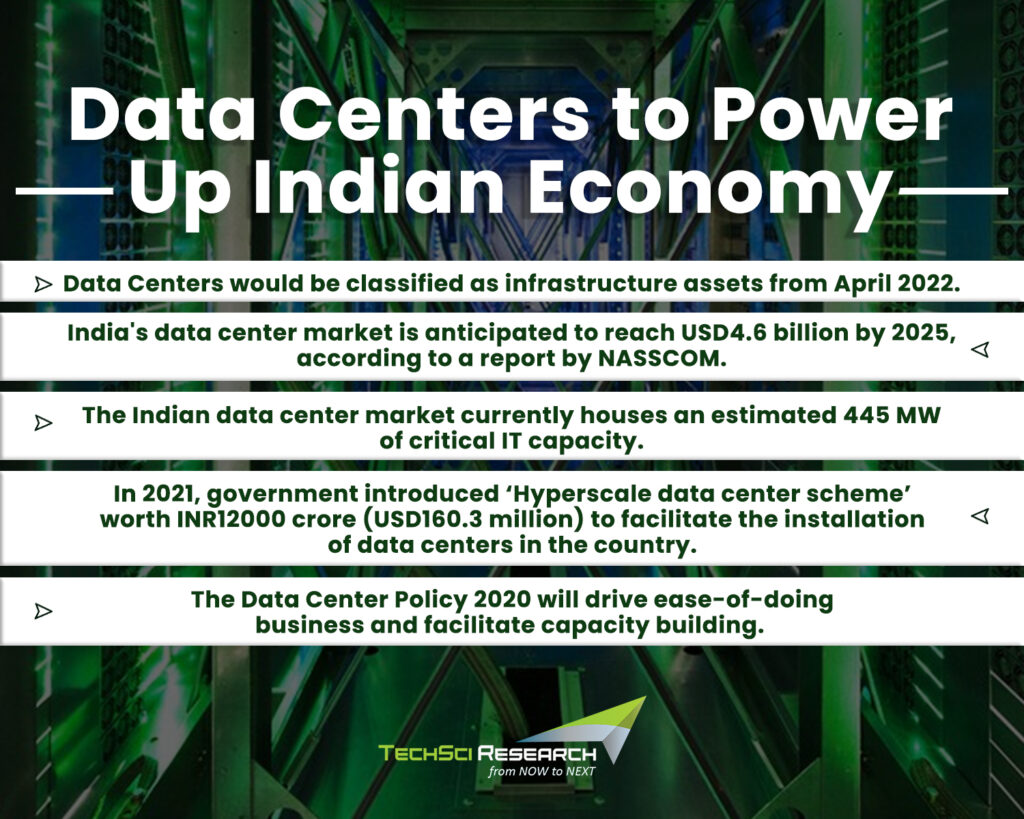 India to Become a Global Hub for Green Data Center
India has one of the lowest data rates globally, leading to the generation of massive amounts of data. India's data consumption is anticipated to grow at a CAGR of 72.6% by 2022, and all of this data needs to be processed and stored in data centers. Massive data center infrastructure will become the largest energy-consuming industry. The Indian data center market currently houses an estimated 445 MW of critical IT capacity majorly in seven cities—Mumbai, Delhi/NCR, Bengaluru, Pune, Chennai, Hyderabad, and Kolkata. While India's data center market is already on the sharp rise, the green revolution can transform the country into a global data center hub. According to EY's Renewable Energy Country Attractiveness Index, India ranks at third position, owing to the country's massive green energy capacity and that too at meager rates. Many global companies are opting for green data centers to meet their carbon emission goals, which makes India a reliable option.
India has no regulatory regime in mandating the use of green energy, which has led to data center operators increasingly embracing clean energy to operate DC operations. Given that the Indian data center industry is still developing, the industry has become much more flexible in undergoing energy transformation, unlike mature data centers in developed countries, which find pivoting to green technologies more cumbersome. India is a natural fit for data center operators looking for expansion in Asia since developed markets like Singapore has already reached a saturation point.
Adani Group has planned to make India a world leader in green data storage that runs entirely on clean power and thus reducing dependence on coal and oil. The conglomerate has planned to invest a total USD70 billion by 2030 across its green energy value chain, one of the biggest tailwinds behind Prime Minister Narendra's Modi's vision to make India touch net-zero carbon emissions by 2070. NTT India has already set up its solar and wind generation facilities, earmarking USD100 million for clean energy initiatives as more than 30% of NTT's power consumption comes from green sources. India is already providing data storage facilities to global firms such as Amazon and Google amid the growing adoption of smartphones and cheap mobile data tariffs.
Construction of Data Center Parks
Data center hubs/parks are facilities that centralize an organization's shared IT operations and equipment to store, process, and distribute data and applications. India's first data center park will be set up in the Greater Noida region of Uttar Pradesh. The data center park will include six interconnected data center buildings, which will offer a rack capacity of 30,000 servers and 200-megawatt power. The infrastructure project will be made with an investment worth INR7000 crore (USD93.5 million), and it is scheduled to begin its operations in July 2022. The data center park will be one of the largest in the state, powered by 100% green renewable energy to customers. Currently, Mumbai is the most popular destination for data centers due to its proximity to cable landing stations. Approx. 160 acres of land parcels in the micro-market are being marketed to data center operations for potential scaling and establishment of data parks in Mumbai.
For a country with the second-largest population, hyperscale data centers will play a crucial role in meeting large-scale internet, networking, and cloud services demands. Adani Group has signed Joint Venture Agreement with the US-based leading global data center operator, EdgeConneX, to build hyperscale data center parks in six cities in India. Bharti Airtel Ltd., the country's second-largest wireless carrier, has announced plans to invest USD671 million to triple its data center capacity to 400 megawatts by 2025.
Government Initiatives
The Government of India (GoI) has been quite proactive in ensuring that the data center industry moves in the right direction as it forms the backbone of the digital economy. On February 1st, 2022, Finance Minister Nirmala Sitharaman announced that data and energy storage systems would be classified as infrastructure assets from April 1st, 2022. The move will help the data operators to raise funds and attract more investments. Granting infrastructure status aims to bring data centers development at par with other major sectors and bolster data localization in the wake of protection of data sovereignty. The progressive step will enable India to become a global data center hub owing to its favorable geographic location, dynamic economy, availability of skilled labor, and cheap credit in the age of globalization.
In September 2021, the government introduced the 'Hyperscale data center scheme' worth INR12000 crore (USD160.3 million) to facilitate the installation of data centers in the country to attract investment worth INR3 lakh crores (USD4 billion) investment in the coming five years. Besides, the 'Data Center Policy 2020' is intended to drive the industry's necessary regulatory and structural reforms, which will drive ease-of-doing-business and facilitate capacity building.
AI-Enabled Data Centers are the Future
Artificial intelligence tools can improve the energy efficiency of data centers with up to 40% reduction in cooling energy consumption, which could result in a 15% drop in overall power usage effectiveness overheads. Optimizing power consumption by augmenting intelligence and enabling automation can help to cut electricity costs and reduce the carbon footprint left by data centers. Besides, predicting more accurately when maintenance is required can help data operators spend less money on fixing issues and prevent any sudden interferences. The most important benefit of an AI-based data center is enhanced protection from cyber threats by detecting abnormal networks or deviations. Recently, Intel launched a new artificial intelligence-based data center platform in India based on third Gen Xeon Scalable processors. The new platform can deliver enhanced performance than a prior generation with a significant 64% improvement on popular data center workload.
Major Data Center Projects of India
· CtrlS
Hyderabad-based data center company, CtrlS plans to deploy its rated-4 data centers across India by 2023. Currently, the company has operational centers spread across 1 million sq. ft. of land area in the country, which would be expanded to 6 million sq. ft. Almost 70% of data transactions in India are carried out through data centers of CtrlS since the company specializes in providing all major digital services including cloud security, disaster recovery, consultation in data center builds, etc.
· Web Werks
Web Werks has signed an MoU with the Government of Karnataka with an investment of USD100 million for generating a power capacity of 12.5 MW. The new center will address the rising demands from enterprises and hyperscalers like Google, Amazon, and Microsoft. The company also plans to expand its data center capacity in Mumbai with the launch of a 12.5 MW data center with the best and most scalable solutions combined with security and network.
· Nippon Telegraph and Telephone (NTT)
NTT is a leading information and communication services provider with ten operational data centers in India spread over 1.5 million sq. ft., generating a total capacity of 150 MW. NTT is working towards expanding its data center capacity space up to 2.5 million sq. ft. in the next three years, focusing on renewable sources.
· Google
Google has planned to invest USD10 billion in the Indian data center sector within the next five years, establishing data centers in metropolitan cities like Delhi, Chennai, Mumbai, and Hyderabad. The developments will be a part of the 'Google for India Digitization' initiative, which could reduce latency up to 80% for its users.
Conclusion
One of the key challenges faced by data operators in India is land acquisition, which affects proximity to a power substation, fiber path, soil and air quality, risks of natural disasters, distance from oil terminals, etc. Most of the available zones are based in industrial locations that are rapidly becoming mainstream with the growth of industrialization, making options limited and costly for data operators. Land prices in some Navi Mumbai and Chennai regions have almost tripled in the last three years.
According to TechSci Research report on "India Data Center Market By Solution (IT Infrastructure, General Infrastructure, Electrical Infrastructure, Mechanical Infrastructure and Others), By Type (Corporate and Web Hosting), By End User Industry (IT & Telecom, Government, BFSI, Healthcare and Others), By Region, Competition Forecast & Opportunities, FY2027", India data center market is anticipated to grow at a formidable rate during the forecast period. High internet penetration and growing demand for intelligent devices are driving the growth of India data center market.
According to another TechSci Research report on "India Data Warehousing Market By Usage Type (Analytics, ETL (Extraction, Transform and Load) and Reporting, Data Mining), By Data Type (Unstructured and Semi-Structured & Structured), By Deployment (On-Premise, and Cloud), By Application (Customer Analytics, Fraud Detection and Threat Management, Supply Chain Management, Others), By Organization Size (Small & Medium Sized Enterprises and Large Enterprises), By Industry Vertical (BFSI, Telecom & IT, Government, Manufacturing, Retail, Healthcare, Media & Entertainment, and Others), By Region, Competition Forecast & Opportunities, FY2027", India data warehousing market is anticipated to grow at a significant CAGR owing to factors such as surge in use of modern business intelligence tools by enterprises and high demand for advanced analytics.