November 2, 2022
Current Trends in Cosmetic Dentistry
Gone are the days when dentistry was confined to treating dental ailments or periodontal diseases. Dental trauma, poor dental hygiene practices, tooth defects, smoking, aging, or other lifestyle practices can make your teeth appear their natural color, shape, or even texture, leading to cosmetic procedures' growing popularity. In recent years, the cosmetic dentistry industry has registered significant growth, mainly due to the enhanced focus of the population on improving their dental aesthetics to boost self-confidence and self-image. Besides, the rising availability of tools and technology that facilitate various invasive and non-invasive cosmetic treatments are substantially adding to the market growth. At present, cosmetic dentistry is not limited to the rich and famous, as the treatments have become more affordable and accessible to everybody else.
Moreover, other factors, such as the increasing geriatric population and rising disposable income of the general population, are fuelling the demand for cosmetic dentistry across all regional geographies. Improvements in research, training, and advances in dental technology enable patients to opt for cosmetic dentistry procedures ranging from color correction to restoring missing teeth.
Here are the current trends influencing the growth of cosmetic dentistry.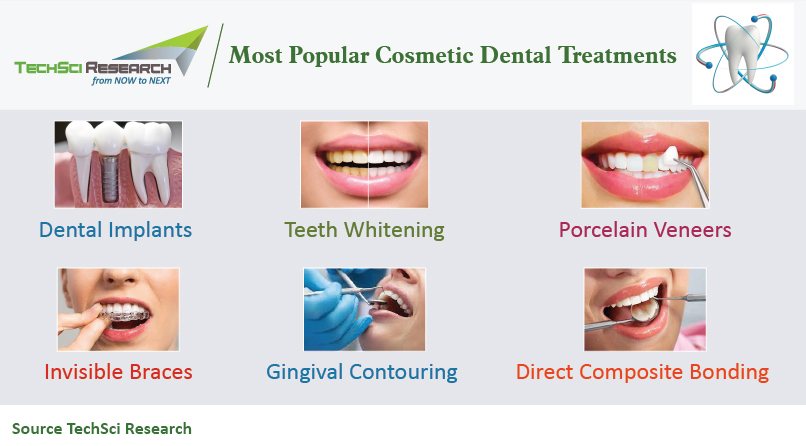 "Zoom Boom" Creates Demand for Porcelain Veneers
Shutting down offices during the COVID-19 pandemic led to an increased need for remote working, which resulted in video conferencing for endless amounts of time, offering a close look at an individual's mouth and teeth. With Zoom meetings becoming a norm, a flawless smile has become even more important for people who want to appear confident. There is no easier way to achieve a perfect smile than opting for porcelain veneers. Moreover, Cracked or chipped teeth, small or poorly shaped teeth, gaps in teeth, crooked teeth, stained or discolored teeth are all dental problems that can be addressed with the use of porcelain veneers. Porcelain veneers are thin ceramic shells placed over the teeth to cover flaws. New porcelain veneers look and feel like natural teeth as they allow light, mimicking real teeth' properties. Hence, the veneers are becoming a low-risk treatment Porcelain veneers eliminate the need to address discolored or stained teeth frequently.
Invisalign Braces Changing the Face of Orthodontic Care
Malocclusion or teeth irregularity is one of the most common dental problems across the globe. Metal branches are rapidly becoming a thing of the past with the emergence of new metal-free or ceramic braces. Invisalign braces are almost invisible inside the mouth compared to the blaring metal that comes with more conventional braces. Many people, especially teens and tweens, resent the appearance of metal aligners on their teeth, which result in their lack of confidence. An increase in orthodontic incidences is propelling the demand for novel Invisalign braces. Approx. 21% of specialty dentists and 79% of general practitioners in the United States use clear aligners for treating their teeth abnormalities. The adoption of invisible aligners is increasing with the launch of specific aligners customizable to the patient's needs, increasing degree of spending in personal grooming, and rapid adoption of aligners among adults.
3D Printing in Dentistry
3D printing is one of cosmetic dentistry's most compelling trends, taking the world by storm. The potential applications of 3D printing are gargantuan, which could cover more than 60% of all dental production needs by 2025. Recently, 3D Systems and Saremco entered into a partnership to accelerate 3D Dentistry, producing permanent crowns specific to a patient while increasing accuracy and decreasing costs. The US FDA recently approved Saremco's CROWNTEC composite resin for use in 3D Systems' NextDent 5100 dental 3D printer to produce dental restorations, which are 30% stronger than previous generations of crowns and bridge materials. To get the three-dimensional information required for 3D dental imaging, dentists are employing computed tomography machines, also known as CBCTs, which provide a 3D rendition of a patient's mouth, compared to X-rays or medical CT scan technology that only offer a 2D view. 3D printing is also widely used for creating patient-specific dental aligners using technology like stereolithography. Besides, additive manufacturing in dentistry is used to cast items like crowns, bridges, and copings, saving investment in the casting process.
Gum Contouring/Reshaping Procedure in Demand
Gum re-shaping, also known as gum contouring, is a cosmetic procedure that involves altering gums' shape to look more aesthetically pleasing. Gum contouring is only performed to enhance the appearance of teeth and gums. Gum contouring is highly preferred by people with a gummy smile, which makes teeth look smaller and gum tissue in excess. Modern gum procedures are now being performed using state-of-the-art tissue lasers, which make precise cuts to the gumline rather than scalpels and other surgical instruments. The laser gum contouring procedure eliminates unwanted tissue and improves the appearance of the gemlike in the procedure, which leaves the patient with a balanced appearance of teeth and gums to make their smile appear more attractive.
Teeth Whitening Procedures Dominate the Cosmetic Dentistry Industry
Research studies show white smiles are more attractive than yellow and uneven teeth. A number of factors can contribute to discoloration or yellow teeth, such as consuming stain-causing foods, smoking, consuming tea or coffee, using certain medications, genetics, etc. Tooth discoloration can negatively affect the self-confidence of an individual. Hence, many people are opting for teeth whitening procedures considered safe, easy, and inexpensive to get a great smile. Cosmetic tooth bleaching has become a USD3.2 billion global industry due to the huge demand for teeth whitening procedures, which are not limited to celebrities anymore. Although many teeth whitening products are available in the market, people prefer in-office teeth whitening procedures more to achieve superior results. One session of in-office teeth whitening can make teeth up to 8 shades whiter, depending on the severity of discoloration.
Artificial Intelligence in Digital Dentistry
The world of cosmetic dentistry is now embracing artificial intelligence just like other domains of healthcare. Patients can now check how their smile looks before they commit to the procedure with the use of digital imaging, which would provide a more realistic representation of the actual situation than in the past. Predicting aesthetic outcomes gives patients confidence and leads to a higher acceptance of the cost estimate. Artificial intelligence can also help surgeons plan surgeries to reduce overall operating time and improve accuracy. Besides, the availability of robots to perform minimally invasive dental work and the increase in the use of digital dentistry solutions are expected further to boost the adoption of AI in cosmetic dentistry.
Way AheadTechnological developments in cosmetic dentistry are transforming the way cosmetic dentists diagnose and prescribe treatments. Digital X-rays, intra-oral cameras, dental lasers, optical scanners, robotics, subperiosteal implants, implant-supported bridges, etc. are some of the new technologies that are becoming a gold standard leading to enhanced patient experiences and dental outcomes. Recently, a new kind of braces has been discovered at the NYU College of Dentistry that significantly reduces the amount of time required for wearing braces. These braces cause small holes into a patient's gums through a process called micro-osteoperforation, which allows porous bone tissue to form and move the teeth faster. Hence, further technological advancements associated with cosmetic dentistry are expected to become an integral part of healthcare practice and be incorporated into dental labs.