March 14, 2023
Cosmeceuticals: Current Trends and Market Analysis
From green cosmetics to immersive beauty, and personalized care to cosmetics nanotechnology, many emerging trends are influencing the cosmetics industry. Innovation and research are playing a significant role in driving the development of the beauty industry, resulting in constant improvements to the quality and safety of products that consumers use. As consumers are becoming more aware about skincare practices, they are keen to purchase clinically backed products, which has given rise to cosmeceuticals market.
Unlike cosmetics, cosmeceuticals contain bioactive ingredients with medical benefits that penetrate from the epidermis and acts around the dermis area to treat skin conditions such as dry skin, acne problems, dark spots, reduction of collagen, pigmentation, tanning, etc. Dermatologists and skincare professionals recommend cosmeceuticals since they treat the root cause of the skin and are hence preferred by customers for long-term use.
Although women have remained the driving force behind the cosmeceuticals industry, men are becoming increasingly relevant. Due to increasing awareness regarding different skin types, active substances and products, males are expressing increased interest in purchasing male cosmetics that can address their issues. Emergence of brands that target this cohort and shifting attitudes towards masculinity are some of the factors driving the adoption of cosmeceuticals worldwide. Moreover, huge investments for R&D of cosmeceuticals by market players and acceptance of these goods in both developing and developed economies are supporting the global cosmeceuticals growth.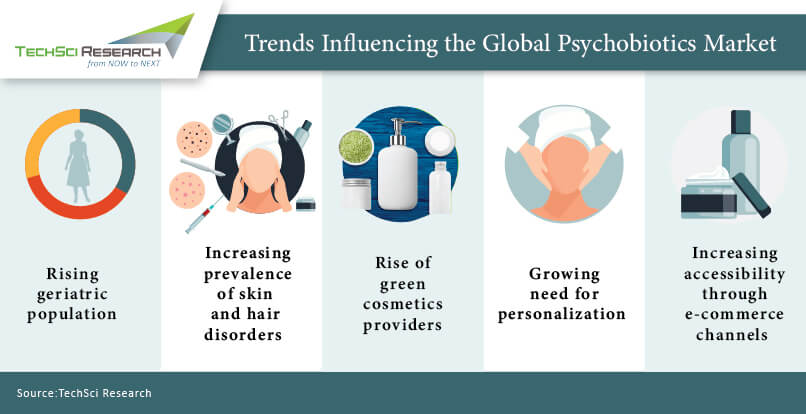 Rising Geriatric Population Boosts Cosmeceuticals Adoption
There has been a huge surge in demand for high-end anti-aging products as people are ready to trade wealth for youth. Cosmetic companies are moving beyond traditional cosmetics and tapping into biomedical revolution, adding biologically active ingredients to their products that enhance functioning of the healthy skin. Many cosmeceutical agents are being developed for the treatment and prevention of photoaging skin with the inclusion of antioxidants and compounds that help repair DNA and stimulate collagen production. Topical synthetic Vitamin A or retinoids—in various forms of tretinoin, adapalene, and tazarotene, Vitamin E, Vitamin C, hydroxy acids, peptides, biotin, and growth factors are widely used in cosmeceuticals as they help to reduce fine lines and wrinkles.
Bulgarian startup GENTLE & ROSE produces anti-aging cosmetics that combines natural plant extracts and bioengineering to create its range of cosmetics. Nuebiome manufactures microbiome skincare cosmetics, which contains nutrient-rich bio-ferments that blend prebiotics, probiotics, and postbiotics. More such innovations by market players and their increasing availability at dermatologists are expected to drive the growth of cosmeceuticals in the coming years.
Increasing Prevalence of Skin and Hair Disorders Creates Demand
Unhealthy lifestyle, exposure to pollution, irregular sleep patterns, chronic disorders, etc. are causing skin problems among population around the world. Acne is a common skin condition, which affects up to 50 million Americans annually. More than 80 million Americans suffer from hereditary thinning or baldness due to excessive or improper use of styling products, poor hairstyle, excessive shampooing, hair pulling, hormonal imbalance, inadequate protein, etc. As awareness towards skin and hair products with chemicals is growing, consumers are not willing to take risks and purchase products that could ruin their skin barrier. Consumer of all age groups are gradually understanding the relevance of choosing products based on their skin type or problem and hence, they are willing to visit dermatologists to find the root cause of their skin issues and address it medically. Dermatologists recommend cosmeceuticals, which contain ingredients that can reach deeper layer of the skin and provide long-term results. Moreover, the rising demand for medical aesthetic procedures, performed by trained experts, are adding to the demand for cosmeceuticals. Rising initiatives by brands through various campaigns to increase awareness among population regarding various skin and hair issues are also leading to a greater demand for cosmeceuticals among the population.
Rise of Green Cosmetics Provides New Opportunity for Market Players
Growing focus on sustainability and enhanced environmental awareness have put enhanced emphasis on green cosmetics. Consumer preferences for makeup is declining while those for skincare and haircare, constituting natural products, is increasing. Hence, beauty and skincare sector are reinventing to respond quickly to the new needs of unpredictable market. Continuous innovation by formulators seeking to find new natural ingredients to grab customers' attention is leading to the development of improved cosmeceuticals. Brands are advertising their cosmetic products by highlighting the key ingredient and explaining their benefits for skin and hair. Social media influence is also playing a key role in promoting the use of cosmeceuticals as people are becoming more aware of the active ingredients that goes into the development of cosmetics via ads or celebrity endorsement. Moreover, many vegan brands in the cosmeceutical space are emerging that promote the use of natural and organic ingredients. With the rise of vegan population across the world, the demand for vegan cosmetic products is projected to grow, which would benefit the cosmeceutical industry in the coming years.
Personalization Benefits Cosmeceuticals Industry
When it comes to beauty, consumers are not taking a one-size-fits-all approach. With the influx of beauty-related content across the internet, consumers are well-informed and extremely aware of their needs. Consumers want customers to understand their needs and develop products that meet their unique needs. Hence, beauty brands are introducing products that can cater to consumers of different skin types, skin conditions, skin tones, and texture. Many brands are offering tools to customers to find the products that they need, mostly through online consultations or AI skin tech. For instance, Dermafique has launched smart skin advisor that informs people about skin health and gives them a health score based on several parameters such as firmness, smoothness, hydration levels, dullness, pigmentation, fine lines, wrinkles, etc. Another brand, Fabbeau has launched an AI tool, SuperTouch to help users know their skin better. Luxury brand, Estee Lauder has also introduced a skin analysis tool to assist customers for personalized skincare. Hence, technology advancements in the skincare domain and their growing availability among consumers are expected to fuel the trend of personalization and boost the adoption of cosmeceuticals.
Growing Accessibility through E-Commerce Channels Leads to Positive Growth
E-commerce continues to be the biggest driver for the sales of cosmetic products. Key market players in the cosmeceutical industry are leveraging online channels to sell their products to the customers directly. For instance, cosmeceutical brand, Dermelect Cosmeceuticals offer products on their online platform with detailed explanation of each ingredients and its exact role in the skin care. More such eCommerce platforms are emerging that cater to the individualized demands of the consumers, which is supporting the growth of Cosmeceuticals market.
Beauty box subscriptions are rapidly becoming popular among consumers as they can get skincare products based on their needs and requirements, which are generally dermatologist recommended. Some beauty box brands such as Bomibox, OuiPlease, Nomakenolife, etc. are making international products more accessible for consumers. Entry of more beauty box subscription players can create more competition and result into better products for consumers.
According to TechSci Research report on "Global Cosmeceuticals Market By Type (Skin Care, Hair Care, Oral Care & Others), By Material (Natural and Multifunctional/Synthetic), By Distribution Channel (Supermarket/Hypermarkets, Online Retail Stores, Pharmacy & Drug Stores, Others), By Ingredients (Antioxidants, Retinoid, Botanicals, Peptides & Proteins, Exfoliants and Others), By Company, By Region, Forecast & Opportunities, 2028", the global cosmeceuticals market is projected to grow at a significant rate, owing to factors such as rise in consumer consciousness in terms of looks and rising personal disposable income. Besides, enforcements of using chemical free ingredients in the cosmetics industry and rising incidences of skin disorders are anticipated to fuel the growth of global cosmeceuticals market.