April 25, 2019
Contraceptive Pills Market to Grow at over 7% until 2024 – TechSci Research
Advancements in medicine along with rising awareness about sexual health to drive global contraceptive pills market through 2024
According to TechSci Research report, "Global Contraceptive Pills Market By Pill Type, By Category, By Sales Channel, By Region, Competition, Forecast & Opportunities, 2024", global contraceptive pills market is projected to grow at a CAGR of over 7% during 2019-2024, on the back of rising need for population control. Moreover, changing lifestyle and rapidly melting social, religious and ethical barriers are further leading to a significant surge in the uptake of contraceptive pills globally. In terms of sales channel, contraceptive pills market is categorized into offline and online, of which offline accounted for a significant portion of global contraceptive pills market in 2018. Online sales channel is anticipated to be the smallest category owing to time constraint associated with it. Time constraint associated with intake of 'morning after pills' is a major factor hindering the growth of online sales channel.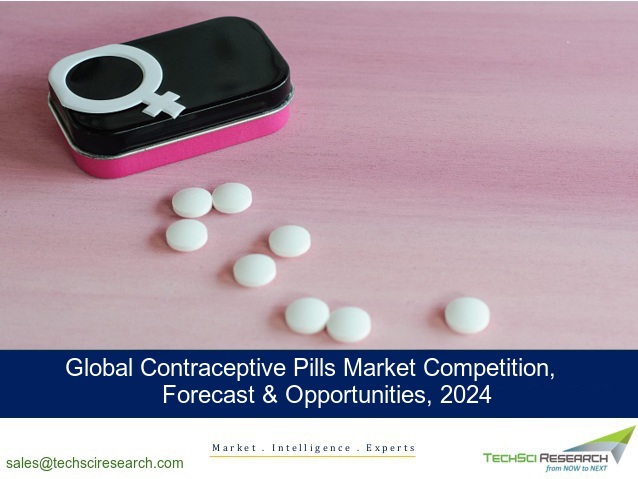 Browse xx market data Tables and xx Figures spread through xx Pages and an in-depth TOC on "Global Contraceptive Pills Market"
https://www.techsciresearch.com/report/contraceptive-pills-market/3951.html
Asia-Pacific contraceptive pills market is anticipated to emerge as a promising regional market in terms of new growth opportunities. The growth of the segment is led by factors such as increasing awareness regarding the need for contraceptives for birth control, high population and easy availability of contraceptives as a convenient way of birth control. Among countries, China was one of the largest markets for contraceptive pills in 2018. China is the world's most populated country, with a population of 1.38 billion. Voluntary family planning has been widely adopted throughout the country with the efforts of the government. The initiatives taken by the governments towards family planning and easy access to contraceptives such as emergency contraceptive pills have increased their popularity among women in China for preventing pregnancy-related health risks, unsafe abortion, and adolescent pregnancies.
Download Sample Report @ https://www.techsciresearch.com/sample-report.aspx?cid=3951
Customers can also request for 10% free customization on this report.
"Global contraceptive pills market is anticipated to register a steady growth over the course of next five years. Factors like increasing prevalence of unwanted pregnancies, easy availability of contraceptives pills and their low cost are positively influencing global contraceptive pills market. Moreover, rising efforts of governments to increase awareness regarding contraceptives is further anticipated to steer growth in the market over the coming years." said Mr. Karan Chechi, Research Director with TechSci Research, a research based global management consulting firm.
"Global Contraceptive Pills Market By Pill Type, By Category, By Sales Channel, By Region, Competition, Forecast & Opportunities, 2024", has evaluated the future growth potential of global contraceptive pills market and provides statistics and information on market size, structure and future market growth. The report intends to provide cutting-edge market intelligence and help decision makers take sound investment decisions. Besides, the report also identifies and analyzes the emerging trends along with essential drivers, challenges and opportunities in global contraceptive pills market.
About TechSci Research
TechSci Research is a leading global market research firm publishing premium market research reports. Serving 700 global clients with more than 600 premium market research studies, TechSci Research is serving clients across 11 different industrial verticals. TechSci Research specializes in research based consulting assignments in high growth and emerging markets, leading technologies and niche applications. Our workforce of more than 100 fulltime Analysts and Consultants employing innovative research solutions and tracking global and country specific high growth markets helps TechSci clients to lead rather than follow market trends.
Contact
Mr. Ken Mathews
708 Third Avenue,
Manhattan, NY,
New York – 10017
Tel: +1-646-360-1656
Email: sales@techsciresearch.com