September 25, 2017
Collaboration of Groupe SEB and WMF Proves Profitable for The Europe Food Processor Market
Groupe SEB marks increase of 35.9% to 2.94 billion Euros for the initial period of six months of 2017. The net profit of the company touched $83 million Euros.
The company boasts about its enthusiastic collaboration with WMF that the company overtook in 2016. Whooping one-third increase in profits confirms that the association will bring many more laurels to the company and will prove to be profitable over the years. Goupe SEB chairman and CEO, is hopeful that the company will achieve its every growth target by 2020.
Collaboration process is not over yet. It is about to take the time period of 1 and a half more year. However most of the initiatives conceived have already been launched. The group is expecting organic sales growth to exceed 7% and the revenue to exceed 30% for the rest of the year coming ahead, despite of ongoing economic and political tensions and uncertainties.
While, if we look at the growth chart of WMF, the business grew by 10.3% in the first half of 2017 as compared to the first half of 2016, 544 million Euros.
Request the sample report  at  https://www.techsciresearch.com/sample-report.aspx?cid=1096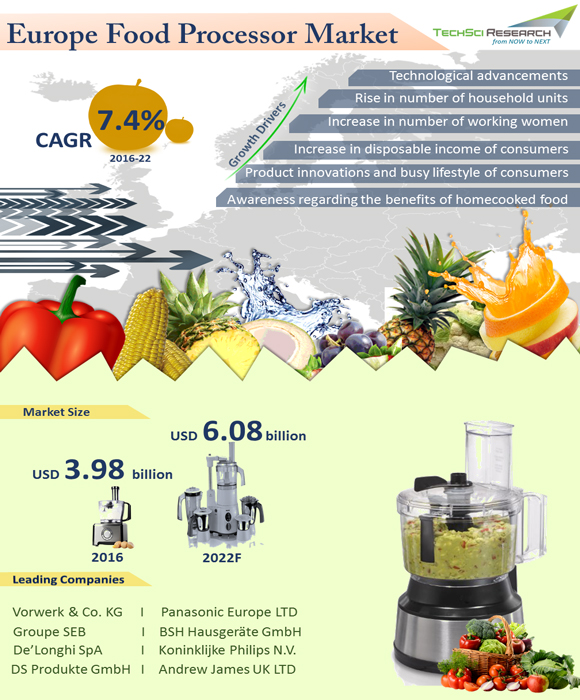 What fueled the sales growth?
Strong momentum in sales was gained by all the geographical regions particularly Germany, Russia, Turkey, China, South Korea and Mexico and by all the product lines, being vacuum cleaners and electrical cookers as the specific growth drivers.
This excellent performance, as per the company experts, is the result of rigorous momentum in 2016 and first quarter of 2017. Credit goes to systematic roll-out of company's innovation plans and leading products. Alongside, advertisement, operational marketing and reinforcement of sales teams for the last several years, have helped the Groupe SEB to flourish and reap the rewards through increased sales and significant market share in the industry.
According to TechSci Research Report, Europe food processor market is expected to grow at a CAGR of 7.4% during the stretch between 2016 and 2022. At present in 2016, Europe food processor market is valued at $3.98 billion. It is projected to reach $6 billion by the year 2022.
Food processors make cooking easy and hassle-free. Besides this, technological advancement and busy lifestyle of consumers are impacting the growth of the market in the upward direction. Also, the manufacturers are aiming high and providing multi-functional features through their innovations to the consumers. All these factors collectively are contributing to the growth of the food processor market in Europe and the entire region.
Major players of Europe food processor market are listed as Vorwerk & Co KG, Groupe SEB, BSH Hausgerate GmbH, Panasonic Europe Ltd, KitchenAid Europa Inc., Magimix SAS and Taurus Group.