November 16, 2021
Charging Solutions for Electric Mobility
With growing environmental awareness and rising fuel prices, electric vehicles are getting more and more popular. Making a transition from conventional cars to electric cars can be straightforward as all the controls remain in the same place, but the only thing that creates a significant distinction is the fuelling connector. Electric vehicles require electricity to propel themselves, and whether you want to charge them at home, work, or public station, one thing is essential: the outlet of the charging station must match the outlet of your car. To be precise, the cable that connects the vehicle socket with the charging point must have the right plug on both ends to facilitate charging. 
Knowing which type of charger is compatible with your EV is important as not all charging stations provide the option for different kinds of electric car plugs. EV charger plug type standard varies across geographies and EV car models. For instance, Tesla uses its own proprietary charging system. The company plans to set up a network of DC fast-charging stations, also known as the Tesla Supercharger network, by the end of 2021. Choosing a suitable EV charging cable for the car can confuse people who are considering buying an EV charging cable for the first time. One should consider looking for specifications and the requirements of their electric vehicle to determine the best type of charging cable.
Types of Electric Vehicle Connectors
Generally, four plugs exist: two for alternating current (AC) charging and two for direct current (DC) charging.
AC EV Connectors
While conventional cars are classified with different grades such as regular, plus, or premium, electric vehicles are characterized by different "levels" such as Level 1 (L1) and Level 2 (L2). The levels determine how quickly the charger can recharge an EV battery, and chargers are defined by the amount of output they provide in kilowatts. Each kilowatt equates to about 4 miles of driving range.
Level 1 Charging
These kinds of chargers have a single-phase plug and are standard for EVs in North America and Asia. The chargers can be plugged into a standard 120 V AC outlet at residential settings or charging stations. They are capable of supplying average power output of 1.3 kW to 2.4 kW. An overnight charge can provide EVs driving range of 30-50 miles, whereas the total time required to charge an empty EV with 100 miles battery can be over 24 hours. Since L1 chargers are the slowest charging equipment, they are not often built for public use. Some parking garages make 120 V outlets available for charging only if the electric vehicle driver supplies their "emergency cables" that come standard with purchasing an EV. The cost to use an L1 charger entirely depends on the cost of electricity at the charging location. In the US, the total charge can cost between USD1.20 and USD13.00 depending on the size of an EV battery and electricity rate at the charging station.
Most EVs come with a Level 1 cord set, so no additional charging is required. On one end of the cord is a standard NEMA 5-15 connector, a three-pin household plug (for current) with two smaller pins (for communication), and on the other end of EV is the SAE J1772 standard connector. Of the smaller pins, the proximity pilot pin tells the charging equipment the kind of cable connected to the socket, whereas the control pilot pin provides bi-directional communications between the electric vehicle and charging system. All Tesla vehicles come with a J1772 adapter so that the drivers can charge their cars with non-Tesla charging equipment.
Level 2 Charging
The two factors that make a significant difference between L1 and L2 chargers are the charging voltage and the capacity of storing charge. Commonly used in the North America region, L2 chargers operate at 208-240 V and provide output between 3 KW to 19 kW of power that can translate up to 18-28 miles of range per hour. Leveraging an L2 charger, you can charge an average EV with 100 miles battery capacity in as early as 4-5 hours or less. However, some L2 chargers can supply more power output. Thus, the results can vary depending on the charger and EV combination. The price for charging at L2 stations can cost between USD0.20-0.30 per kWh, equivalent to USD1.00-5.00 per hour. Level 2 chargers require proper installation of the electric equipment by qualified personnel. Since L2 chargers are wall-mounted, they cannot be carried around like L1 chargers.
Level 2 charging equipment comes with the J1772 connector. Electric vehicle manufacturers such as Tesla, Renault-Nissan, Toyota, Ford, GM, BYD, Chrysler, Mitsubishi, etc., use the SAE J1772 EV plug for single-phase AC charging.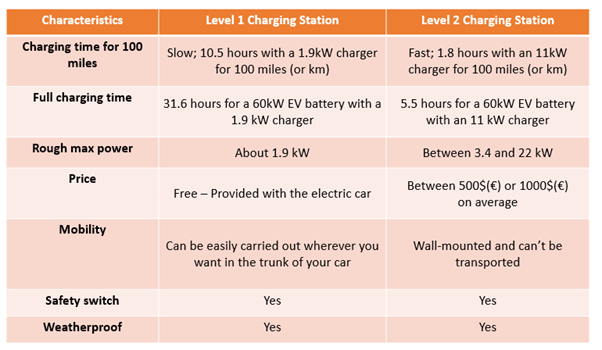 For AC charging, another standard SAE J3068 is available across the US in commercial and industrial locations. Some elements of J3068 have been adapted from the European three-phase charging standards to accommodate North American AC grid voltages and requirements.
Direct Current Fast Chargers
Designed to provide a maximum output of 350 kW, direct current fast chargers are capable of filling an EV battery up to 80% with a charge of 20-40 minutes and 100% in 60-90 minutes. Sometimes EV acceptance rate can limit the maximum charge rate. Many EVs currently available in the market allow maximum charge at 50 kW, while some new EV models like Porsche Taycan are capable of charging over 200 kW. Very few public charging stations can accommodate the top-of-the-line EVs that requires the highest level of power.   
Since DCFC are fast chargers that require extremely high-power draw, they are intended for commercial and industrial uses. These kinds of chargers can be found adjacent to major interstate highways to facilitate EV-road trips. Around 15,000 DCFC plugs are currently available across the US, but the number is anticipated to grow multi-fold with the rapid adoption of EVs in the coming years. Usually, the DCFC charging is billed either by minutes of the charging session. Billing rates can vary from USD0.10/kWh to USD1.00/kWh, depending upon the charging network and EV's battery size.
Not all EVs are capable of DC fast charging so make sure to go through specifications before you make a purchase. Besides, fast DC charging depends on the connector type and EV's maximum acceptance rate. Fast DC charger comes with two types of connectors such as CCS or CHAdeMO. The EV brand will help determine the kind of plug to use with the connector.
CCS and CHAdeMO chargers vary in terms of speeds at which they charge the EV. While CCS has a charging speed of 350 kW, CHAdeMO charger has the capability to charge up to 50 kW.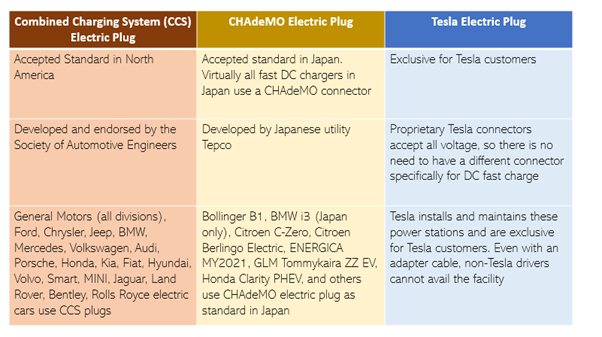 EV Plug Standard in North America & Europe
In North America, most electric vehicle manufacturers use the J-plug (SAE J1772) for Level 1 and Level 2 charging, appropriate for a charging station that comes with a standard J1772 connector. Tesla drivers can utilize the Tesla charger adapter cable that comes with their cars, which can be used at charging stations with a J1772 connector to fulfill the charging needs.
In Europe, EV charging connector types are somewhat similar to North America but have certain distinctions due to the voltage difference in the two regions. In Europe, the standard household electricity is 230 V, approx., which is twice than North America, which limits the use of L1 chargers for EVs. Besides, the standard electric plug used by electric vehicle manufacturers in Europe is the IEC 62196 Type 2 (also referred to as mennekes) instead of the J1772 connector. Tesla Model S and Model X vehicles sold in Europe come with a proprietary electric plug.
DC fast charging is the same in North America and Europe, where CCS is used as the standard by electric vehicle manufacturers except Mitsubishi and Nissan. The Tesla Model 3 uses a European CCS charging system in Europe, and now Tesla has planned to outfit their supercharger stations to have a CCS connector.
Asian electric vehicle manufacturers like Nissan and Mitsubishi prefer Type 1 and CHAdeMO chargers in their models. However, an increasing number of Asian manufacturers such as Hyundai and Kia are switching to European standards for AC charging.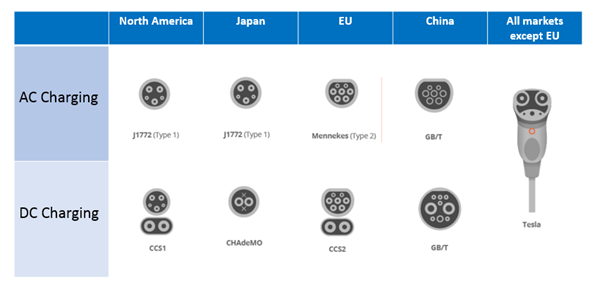 Selecting the right EV plug for your vehicle does not just boil down to the amount of current we want. A lot of physical factors needs to be considered such as
Weight of the connector cable
Location of the connector placement
Shape and proximity of connector
For instance, Mennekes is one of the easiest cables to plug in while CHAdeMO plug can be awkward to use. Besides, to charge faster, a thicker cable would be more appropriate as it allows current to flow more easily. However, heavier cable would be more difficult to handle charging.
Future of EV Chargers
As connectors have proven to be a critical component to accelerate automotive electrification, increasing their versatility can open a host of opportunities for their future applications. With rising awareness towards carbon emissions, engineers are designing innovative connectors to optimize space use and reduce weight, which also results in greater efficiency and fewer emissions. Using light weighting components such as thermoplastic materials, the mass of EV connectors is being reduced to lower weight without compromising on the robustness. Besides, engineers are working towards making the charge connection as efficient as possible.