June 14, 2022
Challenges for the Commercialization of Cell and Gene Therapy Products
Once considered conceptual, cell and gene therapy has become a therapeutic reality for patients. Advances in cell and gene therapy led by innovative research and product development are enabling physicians to potentially reverse the debilitating trajectory of diseases, including rare and autoimmune diseases. The launch of (CAR) T-cell therapies such as Kymriah and Yescarta in the healthcare market of the United States and Europe paved the way for innovative cell and gene therapies. Nine cell and gene therapies have been approved by the Food and Drug Administration (FDA) for treating cancer, eye diseases, and rare hereditary diseases, while nearly 500 cell and gene therapies for a broad range of diseases are still under development. More than 100 diseases are being explored for potential treatment with cell and gene therapies. Cell and gene therapy have similar therapeutic goals, modifying genetic material to manipulate a patient's cell for the treatment of acquired disease. Rising incidences of chronic disorders such as cancer, cardiovascular diseases, and neurological diseases have led to increased cell and gene therapy adoption.

Commercialization of Cell & Gene Therapy with Cold Supply Chain Logistics
The rapid expansion of cell and gene therapy has led to an increased demand for reliable supply chain solutions for the safe and efficient transportation of biological products for patients in need. The ultimate success of cell and gene therapy depends on delivering the critical biological material to the right patient at the right time and location. The logistics behind the cell and gene therapies supply chain are quite complex because autologous or allogeneic cell therapies have extreme time and temperature profiles due to the highly personalized nature of the drug product itself. Hence, cell and gene therapies need intricate logistics to maintain product integrity at ultra-cold or cryogenic temperatures, which adds an extra level of complexity to the whole journey of the biological material. Generally, the following steps are involved in the manufacturing process of cell and gene therapy.
Collection of cells from the donor
Transportation of cells to the manufacturing facility for manipulation of DNA/RNA
Processing into the drug product
Return of final product for administration to the patient

The transformation of a patient's cells into a living drug product in cell therapy takes place through a range of storage conditions with refrigeration varying from 2°C to 8°C to cryogenic temperature (-150°C to –196°C). Hence, technologies are employed to monitor temperature fluctuations of the cold chain. While gene therapies may be transported at a minimum of –65°C, cell therapies may require moving at temperatures as low as –150°C.
Commercialization Challenges in Cell & Gene Therapy

Complex Supply Chains
The patient apheresis needs to be collected at a refrigeration temperature between 2-8°C, and further, the finished therapies may require liquid nitrogen. This can present a logistics problem since every patient has individual needs, and it would be challenging to collect cells from multiple sites before delivery to the manufacturer. Hence, the just-in-time model has some serious drawbacks in commercial distribution.
Cell and gene therapy enables life-changing treatments for some of the most severe conditions. Thus, building a logistical supply chain that conforms to high clinical standards is paramount for the success of cell and gene therapies. The biological material needs to be collected directly from the patient via apheresis and transferred to the manufacturing site, where the cells are genetically modified and produced in large quantities, which are then shipped to the clinic and administered to the patient. The time period from the material collection to typical door-to-door transport is generally 40-50 hours or less. Any errors along the point of the process or supply chain can be devastating for patients. Hence, packaging and delivery of supply chain products require the following considerations for seamless delivery of cell and gene therapy products to patients.
Packaging engineering
Cold chain
Packaging Engineering
The packaging of cell and gene therapy products must provide closure integrity and product stability and allow easy access to the product while remaining functional through thermal and mechanical stresses exerted. The package must be designed to withstand cryogenic temperatures without hindering the quality of the biological material or its durability. In February 2022, Sharp, a global leader in contract packaging and clinical supply services, has planned to construct new purpose-built production suites to meet the increasing demand from manufacturers of gene therapies for dedicated and specialized packaging capacity. The new secondary packaging by Sharp is to offer an optimal environment for addressing the complexities of gene therapies, especially at low temperatures and distribution in cold and ultra-cold supply chains.
Smart packaging and smart technologies can help resolve problems related to supply chain management by enabling full traceability and tracking. During shipment of products, smart packaging would enable monitoring variables such as temperature, location tracking, orientation, shocks, etc., which would reliably protect the contents from negative external impacts.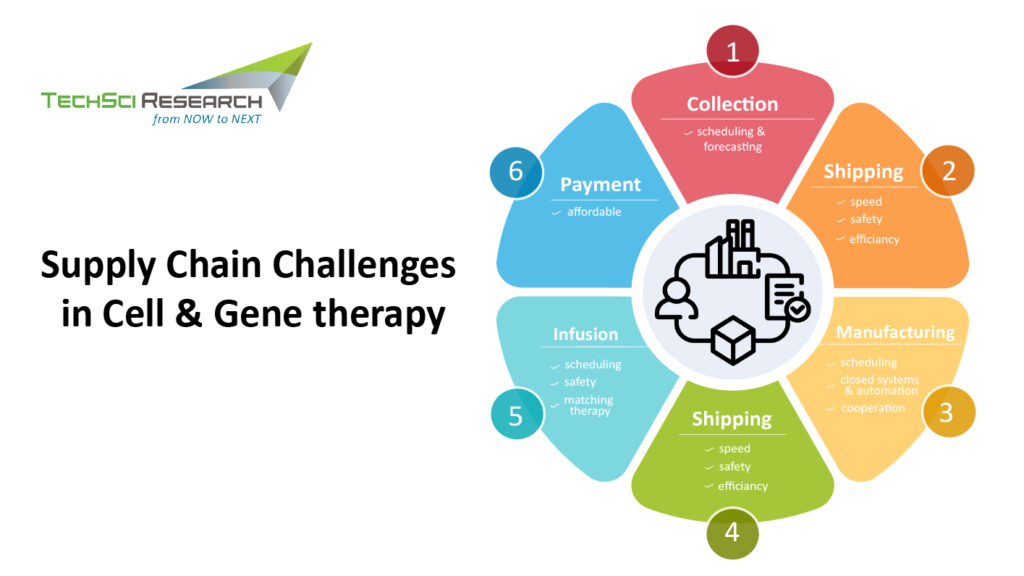 Cold Chain
Cryopreservation is the main medium used for the long-term storage of cells collected from the donor. Compared to ambient refrigerated storage, cryopreservation can help extend the shelf life of the biological unit. Since cells are almost frozen at cryogenic temperatures below the glass transition point of water, the manufacturing of cells allows decoupling of testing of the product from the clinical use of cells before they are finally released into the market. During cryopreservation, the cell does not remain in a metabolically active state, which enables the physician to remove cell growth media from the final product formulation and thus eliminate unnecessary dosing for patients. For ground transportation, the cells are cryopreserved in dry ice, and for aircraft travel, the cells are preserved in liquid nitrogen.
Cryogenic Transport of Gene Therapy Products
Dry Vapor Shipping Systems
Dry vapor shippers are composed of a metallic vacuum flask designed to hold gaseous nitrogen for transportation of gene therapy products at cryogenic temperatures as low as -150°C. The vacuum-insulated panels made from durable material hold high surface-area, low-density, porous, and absorbent foam material that can withstand extreme ambient temperature. The major drawback of dry vapor shipping systems is that they are frequently tipped on their sides during transport, which can lead to reduced thermal longevity for the biological product.
Dry Ice Shipping Systems
Parcel-sized shippers for cell and gene therapy products have a payload area surrounded by insulation medium and dry ice trays at the center of the shipper interior. The sublimation rate of dry ice blocks is significantly lower than dry ice pellets, which allow homogenous temperature distribution and stability inside shippers. However, the major limitation of dry ice shipping systems is that dry ice can cause severe frostbite upon contact with the skin; hence, it needs to be carefully handled.
Pharmaceutical companies are increasingly focusing on research and development and outsourcing third-party temperature-controlled services from providers with biorepository capabilities.
Conclusion
As gene and cell therapy become common, companies involved with the logistical operations would need outstanding technologies and innovative strategies to overcome the supply chain challenges. Besides, supply chain solution providers will require a cold chain logistic network and cryogenic facilities to accommodate studies and evaluate the safety and efficacy of cell and gene therapies. Thus, biorepositories need to create logistic platforms for the vein-to-vein supply chain to ensure therapies are in good shape and delivered to the right patients. The development of mRNA COVID-19 vaccines has already added to the rapidly expanding cold chain logistics infrastructure. Additionally, regulators and industry leaders are also working together to guarantee that the right product is delivered to the right person at the right time. The rise of connected technology will further help to enhance the safety and efficacy of biological products stored in cold chain freezers.
According to TechSci Research report on "India Cold Chain Storage And Logistics Market By Type (Temperature-Controlled Storage, Temperature-Controlled Transportation), By Product Type (Fruits & Vegetables, Meat, Fish & Sea Food, Dairy Products, Healthcare, Others), By Sector (Private, Co-operatives, Public), By Region, Competition, Forecast & Opportunities, 2025", India cold chain storage and logistics market is anticipated to register growth of 17.04% through 2025. The market growth can be attributed to the growing processed foods and healthcare industry. Besides, increasing cross-border trade and growing retail industry are also some of the factors driving the market growth.