December 17, 2021
3D Printing Aiding the Electric Vehicles Industry
Modern mobility solutions are redefining the auto industry and making rapid innovation essential to create unique experiences that customers are demanding. The ever-growing emphasis on reducing emissions and ban on new gas-powered cars entering the marketplace are pushing OEMs to rapidly adopt innovative technologies for more affordable EV-centric portfolios. As per Edison Electric Institute's recent predictions, EV models are likely to increase 3X by 2023, and electric vehicles sales are anticipated to surpass 3.5 million annually within the next decade.
Additive manufacturing or industrial 3D printing technology is emerging as one of the most powerful technologies for automotive OEMs to support electric vehicle production and make cars stronger, lighter, and better performing. Top automobile manufacturers are using the 3D printing technology in their workflows for building high-quality auto parts and accessories and gain a competitive advantage in the automaking game.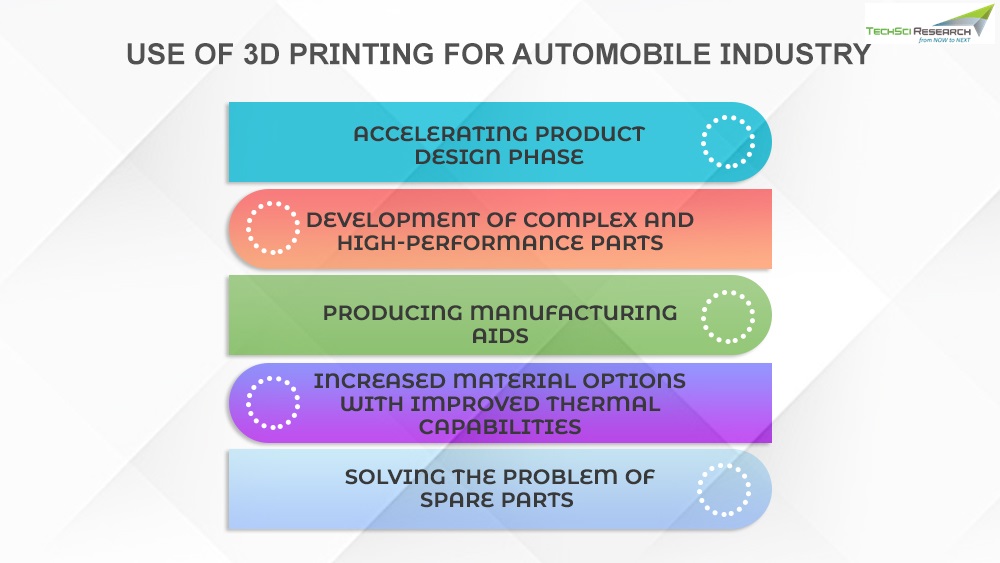 Industrial 3D Printing Transforming Manufacturing of Electric Automobiles
The use of 3D printing in the automobile industry used to be limited to creating functional prototypes. However, over the years, it expanded to optimizing structural design, building end-user part applications, and producing complex parts of the vehicle.
Accelerating Product Design Phase
Manufacturing of every new vehicle starts with prototyping, but it can turn out to be a time-consuming and potentially expensive process if done the traditional way. The 3D printing software has revolutionized the product development process, allowing OEMs to fabricate a high-fidelity and representative prototype of a physical part, be it a simple interior element to a dashboard or even a scale made of the entire car within a matter of days. Leveraging 3D printing, auto manufacturers can print highly detailed, accurate, and smooth full-scale parts, which are essential for demonstrating new concepts and designs as well as performance testing and validation. Additionally, desktop 3D printers allow engineering and design teams to increase iteration cycle and strengthen their overall product development flows. Thus, the use of 3D printing in the automotive industry can reduce production time, manufacturing costs, and create lighter and clean automotive designs.
Development of Complex and High-Performance Parts
3D printers allow manufacturers to produce low-volume and customized production parts on demand without high costs or long waiting times. Besides, the accuracy and reliability of 3D printers enable designers to meet the demands with consistent results without using production tooling. In a way, 3D printing technology empowers manufacturers with vast new capabilities in what they are able to offer to their customers. For small companies that place "custom" at their core, 3D printing car parts have provided them the opportunity to enhance the creativity of their work and improve quality without worrying about the potential expense and time-intensive manufacturing process that comes with customization.
Large auto manufacturers can combine 3D printing technologies with traditional means to customize parts and provide customers with a unique experience. Luxury car maker Bentley utilizes advanced metal 3D printing technology for creating intricate parts such as side air vents, door handles, exhausts, etc., different from what is available in its current production models. Besides, 3D printing allows the creation of auto parts that simply could not be manufactured by any other means. For example, Bugatti's eight-person monobloc brake caliper has been developed by 3D printing, which took its performance potential to a higher level and reduced the weight of the component, while making it stronger and stiffer than the traditional production alternative.
Producing Manufacturing Aids
Engineers utilize manufacturing aids for simple and reliable manufacturing and assembly processes, which provides added advantage of reduced cycle times and enhanced worker safety. The optimized product designs created via 3D printing processes perform more efficiently, cut the lead time to a few hours and reduce costs when compared to outsourcing parts from an external vendor. 3D printing also allows for more ergonomic tools for manufacturers, which can help prevent strain on assembly workers.
One of the greatest benefits of using 3D printing in the automotive industry is the production of end parts with lower weight to manufacture vehicles that consume less fuel while improving or maintaining their functioning. Lighter parts of the electric vehicles help to extend the battery life with improved distribution of weight on the axles. Since 3D printing is not restricted in terms of design freedom, it allows engineers to design end parts conveniently. Additive manufacturing also allows part simplification through consolidation of multiple parts into a single design, which reduces or eliminates the need for assembling parts.
Increased Material Options with Improved Thermal Capabilities
With rapid advancements in additive manufacturing, the selection of materials for 3D printing has increased significantly over the years and continues to evolve. The increased options of custom materials with specific mechanical properties have opened doors for automotive manufacturers to transition from making components with polymer instead of metal. This has led to a further reduction in the weight of electric cars without sacrificing their strength, quality, or safety. Better thermal capabilities of 3D printing can be a game-changer for electric vehicles since managing the temperature of batteries can sometimes be tricky to keep under optimal conditions. The life of Li-ion batteries can be prolonged if they persistently operate at a mild temperature. Thus, EV batteries must remain at a temperature of around 25 ° Celsius. Producing encasings using 3D printing can further help regulate temperature and provide high performance with a low degree of machine work and a fast development cycle.
Solving the Problem of Spare Parts
Demand for spare parts in the automotive industry is sporadic and unpredictable, making their value a debatable financial decision in some instances. Producing spares in anticipation requires a great expenditure for storage and production. In the absence of readily available parts, the value of spares can become more precarious and make repairs more difficult. With 3D printing, manufacturers can design all parts that can be kept as a digital copy, eliminating the need to keep the inventory obsolete. At the customer's request, a spare part could potentially be produced in-store, and thus enables an easy supply of 3D printed auto components and spare parts. Besides, 3D printing can help manufacturers better connect the physical supply chain with a digital thread and eliminate the cost of warehousing and inventory when it comes to housing spare parts. Besides, OEMs can optimize part designs for traditional manufacturing during high-demand phases as well as enable a more efficient and sustainable supply chain. Even parts that are no longer available can be produced with the help of 3D printing technology. People who have classic models can avail spare parts required for any kind of restoration with the available scans of spare parts.
Automakers Motoring Ahead with 3D Printing
General Motors (GM) has been leading the way in the adoption of 3D printing for additive manufacturing as the auto manufacturing giant is expanding its use in different facets, from designing to production. 75% of the parts used in the 2020 Chevy Corvette prototype were 3D printed to achieve time-to-market advantages, weight reduction, and cost-efficiency. GM has been using 3D printing tools for electric cars and other forthcoming autonomous vehicles, which is helping the company capitalize on its first-mover advantage.
Porsche has recently introduced modern car seating featuring polyurethane 3D-printed central seat and backrest cushion sections that fit the customer's specific body contour, leveraging 3D printing and lattice design. The seat can be customized by three firmness levels, such as hard, medium, and soft, depending upon the driver's preferences. 3D printing is the only technology that can enable this level of customization and Porsche wants to use it for expanding seat customization beyond just color or texture.
Rolls Royce showcased the capabilities of 3D printing in its new models by designing optimized brackets, which were difficult to manufacture with traditional manufacturing methods. Leveraging the innovative technology, the auto manufacturer was able to save cost and accelerate production and incorporated amazing features into the auto parts, such as 3D printed brand name and a QR code.
Ford Motor Company, one of the earliest adopters of 3D printing technology, used the 3D printing technology in its latest vehicle, the 2020 Shelby GT500, which is reportedly the most aerodynamically advanced Mustang designed to date. Ford engineers utilized 3D printing to create 500 cooling and aerodynamic 3D designs, which were utilized in virtual testing.
Volkswagen Autoeuropa has switched its tooling production for assembly lines entirely to 3D printing due to its advantage over traditional manufacturing. 3D printing has reduced the lead time from weeks to just days, improved ergonomics and production efficiency while significantly reducing the cost of manufacturing.
Way Ahead
3D printing has been underestimated in the past, but as the technology is maturing and consolidating, its adoption is bound to increase due to the opportunities it provides. As the need for electric vehicles continues to rise, the demand for electronic devices will increase as well, giving rise to a greater need for designing and producing smaller and complex electronics. Based on nanoscale and micro-scale 3D printing technologies, designing and manufacturing more complex electronic materials in-house will reduce the cost and time for developing electronic vehicles. Almost every player in the market investing in 3D printing technologies will move into the production of even more complex and high-performance parts. The use of 3D printing will become even more mainstream, which could lead to reduced costs and enhanced manufacturing capabilities. Additionally, the growing demand for better-performing and environment-friendly vehicles will create a greater need to streamline supply chains and logistics, which will create a greater need for auto manufacturers to adopt 3D printing to outgrow their competitors.